WEB GEMS
Words vs. games: Vocabulary survey takes on the McCord
BY MARK SHAINBLUM | Join us as we unearth the hidden gems and secret places on the websites of McGill University and its affiliated institutions.
North American Regional Vocabulary (NARV) Survey
www.arts.mcgill.ca/programs/linguistics/faculty/boberg/survey.htm
LUNCH AT CAFÉ NARV—"So, are you having a submarine, a hero or a hoagie? Do you want it all-dressed, with the works or loaded? In a trio, a combo or deluxe? With a soft drink, a pop or a soda? No? Just water from the tap? You know, the faucet, the metal thing that spews water? No, not that thing, that's a drinking fountain. Okay, a bubbler. Oh, you have no cash on you? That's okay, I'll wait while you run to the bank machine at the dep. I mean, the ATM in the convenience store."
If that tiny tale of high lunchtime drama makes any sense to you, you'll immediately understand what Dr. Charles Boberg's North American Regional Vocabulary (NARV) Survey is all about. A specialist in sociolinguistics, dialectology and English phonetics at McGill's Department of Linguistics, Dr. Boberg is using this interactive web survey to sample the rich varieties of local English spoken across the continent. Fill out the fast and fun NARV survey, and the results will tell you where you fit on the linguistic landscape.
McCord Museum Online Games
www.mccord-museum.qc.ca/en/keys/games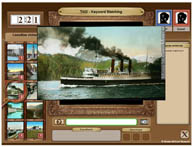 No matter how many times you visit it, the McCord Museum's incredible website always finds a way to surprise you. This time out, let's have a look at the McCord's fun, flashy and painlessly educational web-games, including Watch the Birdie, a role-playing game which puts you in the role of an apprentice photographer in a famed Montreal photo studio, circa 1870 or TAG!, which flashes images from the McCord collection at you and awards points for every accurate keyword you suggest (and, yes, the museum actually incorporates some suggestions into their database.) Association games like Pacific Scandal uncover the surprising links between notable figures of Canadian history, while observation games like Window on the Past let you see just how much of Montreal in 1900 stacks up against Montreal 2008. Limber up your forefinger and get clicking!