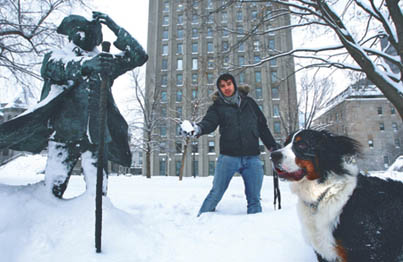 U3 Microbiology and Immunology student Adrian Tucker and his pal Mucca make the most of this year's first big snowfall on campus, under the watchful, somewhat frosted, gaze of James McGill himself.
Owen Egan
Cloned pigs a first in Canada
By Michael Bourguignon
McGill's Department of Animal Science make history by producing Canada's first cloned pigs.
Fighting for human rights, one letter at a time
By Pascal Zamprelli
The Faculty of Law's student-run Human Rights Working Group rolled up their collective sleeves during a recent letter-writing event aimed at raising awareness of a variety of human rights issues.
Notes from the field: Never turn your back on a motorcycle
By Daniel Spitzberg
Dateline: New Delhi, India. Our intrepid reporter tracks down Madhav Badami as he takes on the problem of India's ever-growing transportation nightmare.
Headliners: From the (school) tie that binds to Sesame's mean streets
By Neale McDevitt
AIDS activism; boss of the NHL's Red Wings; Cookie Monster's dark side; and toys gone wrong.
P.O.V.: Canada, the Universal Declaration and tasers
By Frédéric Mégret
Prior to International Human Rights Day on Dec. 10, Frédéric Mégret, assistant professor of law and the Canada Research Chair on the Law of Human Rights and Legal Pluralism, comments on the Canadian taser controversy.
Profile - Brenda Milner: Making a little noise when she walks
By Neale McDevitt
In an institution surrounded by greatness, few have lived a life more grand, more simply.
McGill Web Gems: McGill of yesteryear, e-books and finding the right word
By Mark Shainblum
A veritable mine of McGill's web gems!
Entre Nous with Jana Luker, Executive Director of Services for Students
Student-first philosophy serves Luker well
By Neale McDevitt
She jumps off bridges, sails across the Atlantic and dedicates her life to enhancing the student experience. She's Jana Luker, new Executive Director of Services for Students.
Bourguignon Beat: Putting a name and face to McGill security
By Michael Bourguignon
The McGill Reporter's man-on-the-scene tries to keep up with Mateo Salazar, the new Community Relations Patroller, as he walks his 40-kilometre beat around campus.
Seven new faces, seven new stories
Our annual roundup of some of the new professorial faces on campus focuses on everything from opera to electrical engineering.
Around Campus
A trio of treats from the Redpath Museum and the Principal on ice.
---
TOWN HALL TÊTE À TÊTE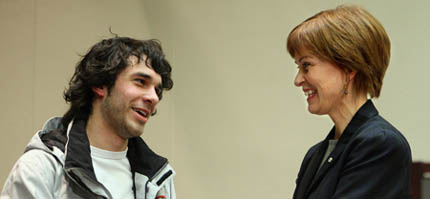 Brendan Rahman, U3 Geography (Urban Systems) and Economics, gets some one-on-one time with Principal Heather Munroe-Blum following the Town Hall meeting on November 26.
Owen Egan