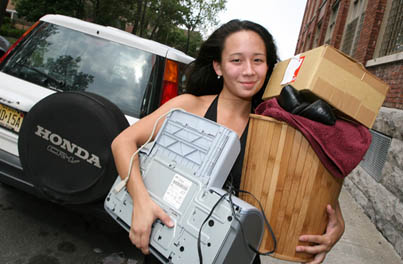 U-Hauling it: Jessica Young, a U0 Arts student from New Jersey, puts a little elbow grease into it as she moves into Solin Hall. Young was one of more than 2,200 students who relocated to McGill residences during Move-In days on August 25 and 26.
Owen Egan
Launching of discovery
By Neale McDevitt
And so begins another school year...
McGill, ICAO to host aviation conference
By Pascal Zamprelli
From September 14 to 16, McGill's Institute of Air and Space Law and the International Civil Aviation Organization will co-host a major aviation conference.
Pay attention to the man behind the curtain
By Michael Bourguignon
Between them, Dan Levitin and Sandy Pearlman have worked on records that have sold upwards of 300 million copies. Guess that makes them the right choice to teach a new course on the technology behind music production.
Headliners: From collapsing downtown to Arctic meltdown
By Neale McDevitt
McGill earns props for going green; baseball umps are not colour blind; Montreal's infrastructure crumbles even more; hot time in the Arctic; and doing the neutron dance.
P.O.V.: A New York Yankee in James McGill's court
By Jake Itzkowitz
A primer for American newcomers to McGill by SSMU prez Jake Itzkowitz.
Profile - Carey Ashton: Life lessons from the diamond
By Neale McDevitt
Stricken with debilitating muscular dystrophy, Carey Ashton, the McGill Redbirds bench coach, pours his all into the game, and the players, he loves.
Entre Nous with Mort Mendelson, Deputy Provost, Student Life and Learning: Simplifying and supporting student life and learning
By Neale McDevitt
One year into his new job, Mort Mendelson outlines what's been done to accentuate the student experience at McGill and what the plans are for future improvements.
Reasonable religion
By Michael Bourguignon
McGill's Newman Centre and the Faculty of Religious Studies have co-organized "Pluralism, Politics and God: An International Symposium on Religion and Public Reason."
Around campus
Souped-up science; angelic voices; a plethora of photographs; and a public lecture series you can really sink your teeth into.
---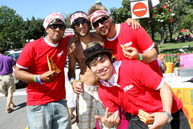 Owen Egan
FROSH 2007
Managing to have a good time: Executive members of the Management Undergraduate Society show that old school spirit during Frosh Week. Clockwise from top left: Jameel Keshavjee, VP Communications; Ali Akbar, U2 Class President; Justin Van Mulligen, U3 Grad Class President; and Paul Jung, VP Information Technology.