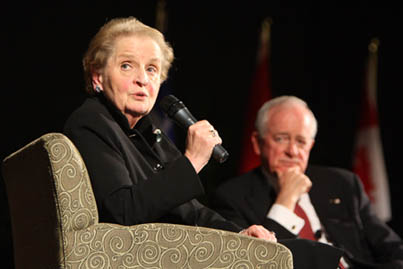 Former U.S. Secretary of State Madeleine Albright tackles the issue of business's role in fighting global poverty during the inaugural Peter Brojde Leadership Lecture, which included an on-stage conversation with Yves Fortier, former Canadian Ambassador to the U.N. and co-chair of Campaign McGill.
OWEN EGAN
The business of battling poverty
By Pascal Zamprelli
Former U.S. Secretary of State Madeleine Albright shines as speaker for the inaugural Peter Brojde Leadership Lecture.
Quand la gestion va, tout va!
Par Celine Poissant
Cette année, le thème de la conférence du Management Forum est Living, Learning and Preserving Excellence (Vivre, apprendre et maintenir l'excellence).
Building AIDS awareness through the arts
By Allison Flynn
So what is YAHAnet anyway? Read on.
Headliners: From foul fuel to transplant tourism
By Neale McDevitt
Kidneys for sale, online aggression and a whole lot of dirty diapers.
P.O.V.: What about violence against women on dates?
By Tom Caplan
The Director of the McGill Domestic Violence Clinic looks at the disturbing trend in men who abuse the women they are dating.
Profile - Renée Sieber: Informing the people and the planet
By Daniel Spitzberg
Amazon basin-based Amerindians on Google Earth? Are things getting too crowded on the information superhighway?
McGill Web Gems: The little Emperor and a big research aid
By Mark Shainblum
More hidden treasures from the McGill websites.
Kudos
McMaster University honours Principal Heather Munroe-Blum and husband, Len Blum, and C.J. Li writes a head-turning page-turner.
Entre Nous with Mark Wainberg, Director, McGill AIDS Centre
Taking aim on AIDS
By Neale McDevitt
He's been a leading AIDS researcher since the beginning of the epidemic and a vocal, unflinching activist. He's Mark Wainberg and he's not afraid to speak his mind.
Alive with hope
By Pascal Zamprelli
Akbar Ganji, Iran's top dissident, sees a future of democracy and peace.
Notes from the Field: Treading on thinning ice
By Bruno Tremblay
Bruno Tremblay, a professor in the Department of Atmospheric and Oceanic Sciences, brings readers on a field trip to the ice floes of the Canadian Arctic.
Walking a mile in someone else's shoes
By Neale McDevitt
Jane Everett, Dean of Students, swaps places for a day with biochemistry undergrad Nicole Darricarrere.
Around Campus
Music and doctors, doctors and music, and the much-anticipated return of Town Hall!
---
ARCTIC WELCOMING PARTY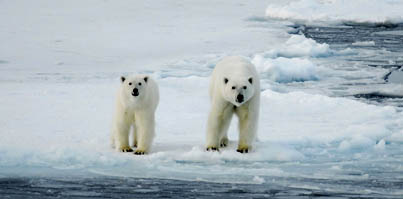 KEITH LEVESQUES