Profile
Lambert Chen: Accidental musician has big plans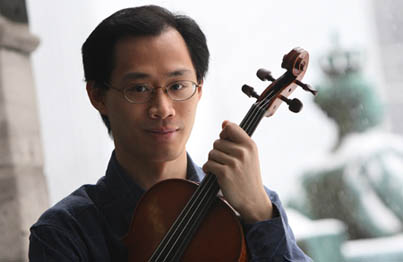 Lambert Chen hopes to parlay his passion for the viola into a career involving research, teaching and performance.
Owen Egan
BY MICHAEL BOURGUIGNON | One day, just shy of his sixth birthday and living with his family in Taiwan, Lambert Chen was mesmerized by a television program in which a violinist made music in a way the youngster would never forget. In fact, the musical moment would change his life.
"I saw a violinist on TV, really liked it, and asked my parents for a violin," said Chen, now 27, a doctoral student in music performance at McGill's Schulich School of Music and an accomplished, award-winning player of both the violin and viola.
"My parents thought it was pretty bizarre, and so did my grandparents. For them, a musician is the lowest thing," he said, just a few days after earning the Golden Violin, a scholarship award conceived by McGill patron and Toronto-based mining magnate Seymour Schulich that includes an annual $20,000 scholarship.
His family may still not get it, but Chen has found a calling that has earned him numerous such distinctions over the years, including a first-place finish in a New England Conservatory of Music competition (while he was working on his Master's in Violin Performance), and third-place honours in a recent Montreal Symphony Orchestra Standard Life competition.
To be named the second recipient of the Golden Violin – an award that has been billed as the Stanley Cup of classical music, replete with a presentation ceremony last month at Toronto's Hockey Hall of Fame – is the icing on a cake that Chen has been assembling on for most of his academic life.
"I don't know why they chose me, but I'm very honoured that they did," he said, adding that the scholarship will allow him to pursue his current research into the sometimes subtle differences between violin and viola players – the subject of his doctoral thesis.
"There are differences in bow pressure, bow speed and the angle of the bow," said Chen. "In theory, we think playing the viola requires more pressure."
Chen hopes to finish his current research this year, then he plans to delve more deeply into how the two instruments differ in their physiological demands on the musician.
"I would eventually like to study vibrato and the different muscles that come into play with both instruments," he said.
Chen credits McGill viola professor André Roy with helping him master this second instrument, giving him the knowledge and skills to discern the differences he is currently studying.
"I started playing viola when I was 11, but very informally. I liked the sound, but I was not ready to commit to the instrument. I was still learning how to play the violin well," he recalled. "André helped me a lot. I spent the first couple of months learning the basics, but my progress went faster than either of us expected."
In addition to his research, Chen gives private lessons and plays with the Godunov Quartet, a group of musicians that meets occasionally to play the classical repertoire Chen holds dear: composers like Paganini, Bach and Vivaldi. "We've just started playing together, but we all have busy schedules, so sometimes it's difficult to get everyone together."
Though he hopes to expand his teaching schedule and remain dedicated to his musical research, Chen also dreams of forming a permanent quartet that will fulfill his desire to perform.
"I love performing – especially chamber music," he said. "I really like the interaction between musicians and the spontaneity that can come out of performing together."
That fits in nicely with the raison d'être of Seymour Schulich's Golden Violin award: to recognize McGill string players whose talent and drive suggest a promising career in performance.
Whatever form Chen's musical future takes, be it performance, research, teaching or some combination thereof, his own raison d'être is quite clear.
"My goal," he said, "is to share ideas."
Download and listen to a sample of Lambert Chen performing Paganini's Caprice Op. 1, No. 17 [.mp3].