Kudos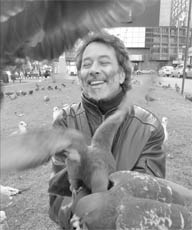 Biology professor Louis Lefebvre has been awarded the 2008 Geoffroy Saint Hilaire prize by the French Society for the Study of Animal Behaviour. The award is granted every two years to a scientist whose work is considered to have made a major contribution to the science of animal behaviour. Lefebvre is internationally recognized for his work on innovation, learning and cultural transmission of behaviour in birds. His research is a source of inspiration for many scientists investigating the ecological and neuroanatomical correlates of innovative behaviour in numerous animal species. The prize will be presented to Lefebvre during the fourth European Conference on Behavioural Biology, to be held in Dijon, France in July.
The Canadian Association of Medical Education (CAME) has selected Dr. Liane Feldman, Professor in McGill's Department of Surgery, for the CAME Junior Award for Distinguished Contribution to Medical Education. The award recognizes Feldman's work in the field of medical education during the first phase of her professional career. Feldman, a minimally invasive surgery transplant specialist, is the Director of the General Surgery Clinical Teaching Unit at the Montreal General Hospital and also serves as the Program Director of the Minimally Invasive Surgery Fellowship Program. The award will be presented to Feldman at a CAME event in Montreal this May.
The Honourable Jim Prentice, Minister of Industry, recently appointed Faculty of Arts Dean Christopher P. Manfredi as one of seven new governing members to the Social Sciences and Humanities Research Council of Canada (SSHRC). SSHRC is an independent federal government agency that funds university-based research and graduate training while partnering with public and private sector organizations to focus research and aid the development of better policies and practices in key areas of Canada's social, cultural and economic life.
Manfredi, also a professor in the Department of Political Science, is a member of the College of Reviewers of the Canada Research Chairs Program and Treasurer of the Board of Directors of the Association for Canadian Studies. He is considered an authority on the role of the judiciary, especially the Supreme Court, in Canada and the United States.