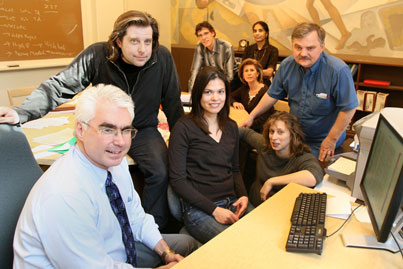 Anatomy and Cell Biology Professor John Bergeron (left), graduate student Annalyn Gilchrist (centre) and the rest of their team are blazing new trails in systems biology.
Owen Egan
Mapping within the map
By Michael Bourguignon | At the start of the 21st century, when the international Human Genome Project (HGP) successfully drew the first complete and accurate map of the human genetic landscape, the field of biology entered a bold new era. McGill graduate student Annalyn Gilchrist is among those using the "new science" of systems biology and proteomics to perform unprecedented research.
Just as the HGP mapped the human genome, Gilchrist and her colleagues in Professor John Bergeron's lab in the Department of Anatomy and Cell Biology have built the first map of two key organelles (any structure within a cell that performs a specialized function) in the secretory pathway of rat liver cells.
"Using a cell-mapping strategy enabled us to take a cell apart and flesh out in detail all the bits and parts of the cell," said Bergeron. "The major responsibility of proteomics is to categorize the proteins in the genome. Annalyn and others developed a tool to give us an idea of the number of proteins in the cell and where they are."
The researchers identified 1,400 proteins in the secretory pathway, of which 345 had been previously uncharacterized. The work, which is funded by the Canadian Institutes of Health Research, the Canada Foundation for Innovation and both Genome Quebec and Genome Canada—and the results of which have been published in the journal Cell—involved looking at immense data sets of proteins, examining some 100,000 data points and making sense of them all in what amounts to a single step. It marks the first time systems biology has been used to study the genetic makeup of a cell.
A whole new and holistic way of looking
"This is a totally new way of doing science that looks at an entity as a system, rather than as a set of individual parts. It's a discipline that comes about as a consequence of the mapping of the human genome," explained Bergeron. "There are 23,000 genes, of which 3,000 are repetitions, so really we're looking at 20,000 different building blocks. These building blocks include millions of proteins, and it's Annalyn's job to characterize all of these proteins at once."
He likens the process to looking at an automobile in a whole new—and holistic-—way. In other words, imagine taking one look at your car and instantly understanding where everything is and how it works without ever opening the hood.
High school biology class was never like this. Nor, chances are, was your last trip to the mechanic.
Not even systems biologists have agreed on a precise definition of what they do. While proteomics is defined as the study of the proteome—the complete collection of proteins in the genome —systems biology is more loosely described as a multidisciplinary approach to science that incorporates molecular cell biology, advanced mass spectrometry, bioinformatics, physics, mathematics, computation and a variety of other fields. What's perhaps most exciting is that these disciplines converge all in one lab, notes Bergeron, adding that it's really a field for the next generation of scientists to develop. "It's such a revolution that it is only through our younger, eager colleagues that the work is most effectively done," he said.
"Just watch us"
Though she stops well short of seeing herself as a revolutionary, Gilchrist agrees that the next generation of scientists is well prepared to lead the charge in advancing the new science.
"My generation is being trained in a way that makes us adaptable to new technologies and new ways of thinking about science. We're used to seeing new advances and adapting to change."
Gilchrist herself believes systems biology will catch on, and Bergeron readily declares his entire team "adherents" of the new science. Still, even the Institute for Systems Biology, a Seattle-based non-profit research institute, acknowledges that the discipline needs to overcome a number of challenges before it wins over the larger science community. Not the least of these challenges is to convince cross-disciplinary teams to join forces, learn each other's scientific language and agree on methodology.
Bergeron's attitude is: "Just watch us."
"If you were here when the mass spectrometry machine first came on the scene, you would have been skeptical, though it was revolutionary in its time," he said, adding that, in the case of systems biology, "there will be a subset of people who embrace it and take it forward while the rest stand by and watch."
Bergeron and his team know exactly to which group they belong.