Emission? Impossible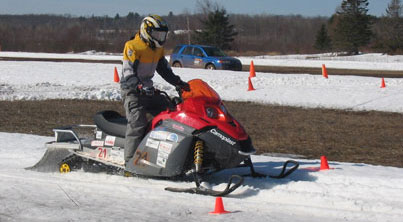 Undergraduate mechanical engineering student Albert Mathews shows off McGill's award-winning electric snowmobile at the SAE Clean Snowmobile Challenge in Michigan.
Simon Ouellette
By Pascal Zamprelli | As the ice melts and the cold retreats, few people are in the mood to talk about anything remotely snow-related. But while most of us last week had our minds on the warmer days ahead, McGill's Electric Snowmobile Team was still deep in the powder, participating in the annual Society for Automotive Engineers' Clean Snowmobile Challenge, held March 19 to 24 in Houghton, Michigan, hosted by Michigan Tech.
The Challenge demands that teams from participating schools take a snowmobile and reengineer it to reduce emissions and noise while maintaining or improving performance. McGill's machine dominated the zero-emissions category (there was also and internal combustion category), earning Best Overall and Best Design honors in the zero-emissions class, as well as the Innovation Award, for which machines in both classes were eligible. The results came after a week of competition, complete with a 100-mile endurance run, a cold-start contest, and a draw bar pull.
Graduate student in mechanical engineering and Project Leader Simon Ouellette describes the electric model as an "evolutionary design."
Many important innovations were made for last year's design-—which Ouellette terms the "revolutionary design"-—such as new chassis, a new motor, and new batteries. Learning from last year's experience, that design was tweaked to perfection over the course of the year, and the award winning machine was born.
Furthermore, McGill's was the lightest snowmobile in the contest.
While many weighed over 1,000 pounds, Ouellette noted that "we amazed everybody with a sub-500 pound snowmobile."
Their event scores earned the team its Best Overall (zero-emission class) award, while the Best Design award was the result of inventive ideas coupled with solid design plans. For Ouellette, however, the Innovation Award is probably the sweetest reward. "The Innovation Award was really nice, because there are no points or anything. The judges are people from the industry, people from the snowmobile world, getting together and saying 'this is the most innovative design we've seen here this week'."
The team's thirst for innovation was also on display in the form of a second snowmobile—a hybrid model—which they brought along for demonstration, "just so people can see what we can do."
This new prototype, a revolutionary model, much like last year's electric model, will serve as a solid building block for next year's competition, where hybrids are expected to play a larger role.
Said Ouellette, "what we did this year with the electric we want to do next year with the hybrid."
Aside from the real reward—"bragging rights"—the team will also have an opportunity to take their machine to Greenland for tests, thanks to an offer from the National Science Foundation.
The snowmobile could become a prototype for arctic researchers, allowing for maximum mobility while minimizing environmental damage. And it won't stop at scientists.
Ouellette said they are already getting calls from ski resorts and snowmobile tour operators.
Summer may be around the corner, but clearly some have snow on the mind all year long.