Mini Science not just brain candy
By Neale McDevitt | Just a few weeks away from the Faculty of Science's first foray into McGill's wildly popular Mini lecture series and Dean Martin Grant has a friendly word of warning to audience members.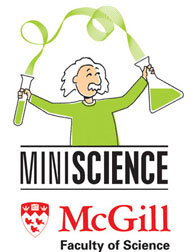 "I get really irritated when I turn on the TV and I hear some narrator say 'most matter is made of thousands and thousands of atoms,'" he said.
"I always have a feeling it's been chewed twice before it gets to me. I like a harder edge on my outreach."
Grant will get his wish beginning April 11, when the first-ever Mini Science will kick off a seven-week run.
Each week, one of McGill's top scientific minds will illuminate audience members on their specific research, helping to debunk myths and entertain along the way.
Unlike previous Mini series, Science decided to focus on a specific subject, the brain.
"We're leading in so many areas when it comes to research on the brain, the choice was really a no-brainer," laughed Robyn Wiltshire, the former director of administration of the Faculty of Science who helped organize the event before moving on to the office of the Deputy Provost, (Student Life and Learning).
"Next year, we're doing the elbow," joked Grant. The breadth of the subject matter of the mini-courses is an indication of the scope of the exciting research going on at the university.
One week, audience members will learn about the cognitive neuroscience of musical experience and the next they will get a molecular view of how we think.
Grant dismissed the notion that the courses might prove a little weighty for laypeople.
"Last month, the Trottier Symposium on the anthropic principle was packed. We turned hundreds of people away at the door.
"The anthropic principle—who'd have thought?," he said. "But I think it shows that people who like science like to get in pretty deep."