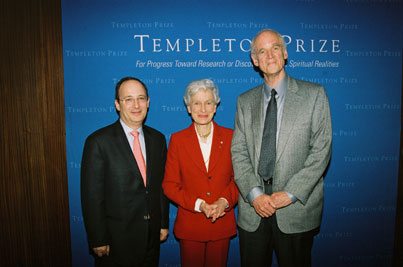 TOAST OF THE TOWN (l to r): McGill Vice-Principal, Inter-institutional Relations, Michael Goldbloom, former McGill chancellor Gretta Chambers and her brother, McGill Professor Emeritus of Philosophy Charles Taylor, at the Wednesday, March 14, announcement in New York of Prof. Taylor's 2007 Templeton Prize.
Karen Marshall
Charles Taylor awarded Templeton
By Mike Murphy
McGill philosophy professor emeritus becomes the first Canadian to receive the prestigious Templeton Prize.
Cole fellowship program focuses on cancer
By Michael Bourguignon
McGill University and Université de Montréal create a program of post-graduate research fellowships aimed at finding a cure for leukemia and other cancer-related illnesses.
Town Hall goes to Mac
Neale McDevitt
Road trip! Principal Heather Munroe-Blum takes Town Hall to Macdonald Campus.
Headliners: From bones to bellies and everything in between
Neale McDevitt
McGill experts give us the lowdown on everything from lead levels in Montreal tap water to a disturbing trend in HIV infection rates.
P.O.V.: The rehabilitation of ozone man
Stephen J. Farnsworth, a Canada-US Fulbright Research Scholar at the McGill Institute for the Study of Canada, suggests that global warming could make Al Gore one of the front-runners in the 2008 U.S. Presidential elections — should he actually want the job, of course.
Profile: A beautiful mind
By Pascal Zamprelli
Jessica Trisko is 22, and a PhD candidate who cracked the Top 10 in the recent Miss Universe Canada competition.
McGill web gems: Posters at war and the sound of McGill music
By Mark Shainblum
The newest installment of our regular feature highlighting the hidden gems on the websites of McGill University.
Kudos: Levitin, Urquhart and Martlets score
We will take them on the bookshelves, we will take them on the hockey rink.
Entre Nous with Jody Heymann, Founding Director, McGill Institute for Health and Social Policy
The multi-talented Heymann talks about everything from her testimony before the U.S. Senate Committee on Health, Education, Labor, and Pensions to her aspirations to compete in the Iditarod dog sled race.
Hockey Martlets' million a gift of love
By Neale McDevitt
The Martlets are recipients of a record-setting gift, all of which was inspired by a love that blossomed at the hockey rink.
Voices on the rise
By Allison Flynn
A stirring photo exhibit brings Afghan women into focus.
Research & Discovery: Like attracts like: The power of positivity
By Geoffrey King
Ashesh Mukherjee, from the Desautels Faculty of Management, fills us in on the ins and outs of marketing.
McGill at the top of the world
By Mike Murphy and Neale McDevitt
Five McGill Arctic researchers, five stories as different as snowflakes.
Bourguignon Beat: The road to freedom: Bring on the cheese and Zyban
By Michael Bourguignon
Our intrepid Reporter reporter graduates from the smoking cessation program at the Jewish General Hospital, and isn't nearly as grumpy as we thought he'd be.
Senate: Rethink revs up the green machine
Jim Nicell, McGill's new Associate Vice-Principal, University Services, gave the Senators the rundown on the various green initiatives his group plans to implement this year.
Election Day reminder
Time off from school and work to vote? Sweet.
NY loves Levin
Dr. Richard Levin, McGill's Vice-Principal for Health Affairs and Dean of the Faculty of Medicine was honoured by the American Heart Association.
Learning French by discovering Quebec
By Mike Murphy
A new program helps undergrads learn French and improve their knowledge of Quebec history.
Winning space patch unveiled
And it's a beaut!
Around campus
From creepy-crawly bugs and giant sharks to outer space exploration and everybody's favourite moneylender, Shylock.