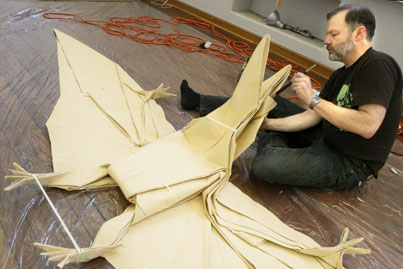 Computational origami pioneer Robert Lang creates the head of a giant origami Pteranodon, a Cretaceous flying reptile, in the Macdonald-Harrington Building. He began folding the 5-metre square paper on April 17 and will finish on April 20. He will deliver a lecture ("Flapping Birds to Space Telescopes") at 7 p.m. on Thursday April 19 in the Redpath Museum Auditorium.
Owen Egan
McGill welcomes Universitas
By Mike Murphy
On April 20, McGill will host a gathering of international development experts and top academics who will look at the role of higher education in combating poverty and health care problems in developing nations.
Our hearts go out
Principal Heather Munroe-Blum speaks for the McGill community in expressing her deepest sorrow to the families of the victims of the Virginia Tech murders.
Gros team IDs spina bifida gene
By Michael Bourguignon
McGill researchers link spina bifida to three mutations in the VANGL1 gene.
P.O.V.: Where was God during the Holocaust?
By Eric Caplan
In the wake of the recent Holocaust Martyrs' and Heroes' Remembrance Day, or Yom Hashoah, Eric Caplan, an associate professor in the Department of Jewish Studies, outlines his own theological misgivings about the existence of God.
Headliners: From total recall to climate free-fall
By Neale McDevitt
McGill experts let their voices be heard in the mainstream media on everything from the airline industry, to memory, to affordable housing up north.
Profile: Pearl of a sports scribe
By Neale McDevitt
Over the course of a career that has spanned three decades, sports information officer Earl Zukerman has reported on McGill's greatest sports moments.
Fighting the new F-word
By Cynthia Lee
The impetus behind PhD student Liz Meyer's study looking at gendered harassment in high schools was born following her own wrongful dismissal as a teacher for being gay.
Entre Nous with Dr. David Colman: Selling science in the name of the brain
By Neale McDevitt
The Director of the MNI talks about his first foray into lobbying the Feds for more research funding, future MNI programs and why his daughter likes making baking soda volcanoes.
The groves of academe, virtually
By Mike Murphy
The McGill website just got greener with the addition of its virtual tour of the university's trees.
Carleton's Love tapped for Athletics
By Earl Zukerman
Drew Love comes over from Carleton to become the new Director of Athletics.
The business side of dietetics
By Nadine Fortin
Second-year dietetics students got a healthy serving of practical experience in cooking healthy meals for large groups of people.
Brian Little: Solving the goose bump mystery
By Kathryn Haralambous
Popular personality psychology prof explores the differences between introverts and extroverts, and discusses how the two aren't always that far apart.
Summertime and the campin' is easy
By Kathryn Haralambous
Did someone say summer camps? Ah, McGill's got some great ones.
Research & Discovery: At work in the world of parasites
By Nadine Fortin
The stuff lurking in your cat's litter box is more ominous than you think.
McGill Web Gems
By Mark Shainblum
What's better than online biodiversity and dictionaries? Nothing.
Symposium bridges disciplines
By Michael Bourguignon
What do you get when you gather together a bunch of young graduate researchers? Nothing but good times.
Courting clerks
By Pascal Zamprelli
McGill ties its own record by having eight law students appointed as clerks at the Supreme Court.
This issue's Around Campus section features Earth Day celebrations, a mental illness film series and, of course, the much-anticipated M-Forum. Oh, and how about taxidermy? Lots of taxidermy.