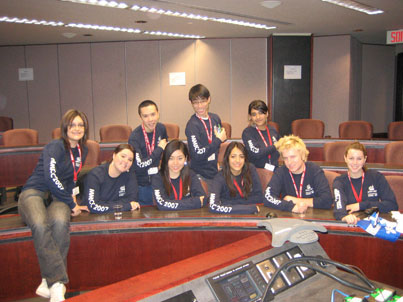 The MMICC executive committee members wear their team spirit. Front (L-R) Neha Bhasin, Teresita Perez-Salamero, Patricia Yip, Radhika Mathur, Blake Connolly, Elizabeth Lund Back (L-R) Jean-Louis Nguyen, Peter Chow, Aditi Hariharan.

MMICC winners work hard, sleep less
By Geoffrey King | Talk about cramming for a final exam. Commerce students competing in the McGill Management International Case Competition (MMICC) have 24 hours to read, review and analyze, then prepare and present a strategy or solution to deal with a hypothetical business problem.
The annual competition, which pits international teams against each other in a sort of Olympics of the case system pioneered at Harvard Business School in the 1920s and now used the world over, celebrated its 7th edition from March 20-24 it is open to four-member teams from only 12 universities in North America, Europe and Asia.
As host, McGill gets an automatic spot in each competition, as do the top three performing schools from the previous year's event. But there is a waiting list of universities hoping to participate.
Desautels Faculty Lecturer, Richard Donovan, supervises the McGill event. "It compares very favourably with top business case competitions in Copenhagen, Hong Kong and Bangkok."
Andrew Flood from the Quinn School of Business in Dublin, said the MMICC has "a broader outlook than the competition we recently entered in London, which focused on financial problem solving."
This year, the McGill case study focused on a Japanese bicycle company planning to expand.
Flood's Irish teammate, Stephen Brosnan, also liked the social aspect of the Montreal event. Prior to the final 24-hour case study blitz, competitors spent one day touring the city and an afternoon tube riding (in the rain) at Saint-Sauveur in the Laurentians. At lunches and dinners, they listened to guest speakers from sponsoring companies such as HSBC.
Team members from the Hong Kong University of Science and Technology appreciated having rules and procedures that were clear and concise. "There was no need to second- guess anything," said Minah Lee. She, too, had high praise for the organizing committee, which helped with travel arrangements, computer hookups…even pizza delivery.
Competitors were holed up in hotel rooms at the Residence Inn on Peel Street. They could communicate with other team members but not with outside advisors or friends. No cell phones, no emails. For most, it was a sleep-deprived grind. Patricia Yip, a fourth year BCom student who has been involved with the MMICC since her first year at McGill, says the enthusiasm really is contagious. "You're exhausted but you keep going."
And keep going they did.
The MMICC 2007 wound up with a gala awards dinner. Receiving top honours was the team from the National University of Singapore.
Students from Simon Fraser University and the University of Washington finished second and third, respectively.