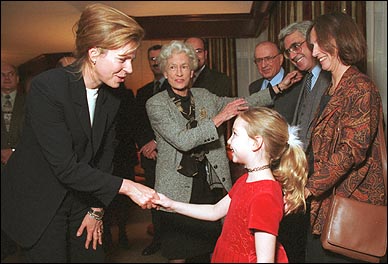 Jordan's Queen Noor, widow of the late King Hussein, made the acquaintance of this delighted girl during a recent visit to McGill. The queen was in town to promote McGill's Middle East Program in Civil Society and Peace Building. She praised the program, run by social work professor Jim Torczyner, for seeking to "effectively empower the most disadvantaged in the region."
PHOTO: OWEN EGAN
Era of government cuts ends
BRONWYN CHESTER
The news wasn't great, but it was good — and that's a clear departure from years of Quebec budgets that took money away from universities. The latest budget actually gives some back. It also introduces a new funding formula for universities.
Genome Quebec launched
BRONWYN CHESTER
The Ministry of Research, Science and Technology has pledged $10 million to the start-up of a new Quebec genome centre. McGill's Thomas Hudson played a leading role in preparing the groundwork. He is the betting favourite to be the centre's first director.
Anybody out there?
SYLVAIN COMEAU
A recent panel discussion featuring NASA and McGill scientists pondered the possibility of life on other planets. Mars is the most likely suspect, they believe. Speaking of which, the University's Hojatollah Vali continues to unlock the secrets of the world's most famous meteorite.
Impish chimp changed science
LAURA ANN PETITTO
Psychology professor Laura Ann Petitto looks back on the life of Nim Chimpsky and remembers how she and the chimp she came to love redefined our understanding of language.
SUPPLEMENT
New Arrivals
McGill is committing itself to a process of academic renewal — Vice-Principal (Academic) Luc Vinet is hoping to hire dozens of professors each year for the next 10 years. The University is off to an impressive start — some of the most recent additions to McGill's professoriate are already making waves.
The lives of saints
TOD HOFFMAN
English professor Dorothy Bray chronicles the motifs that crop up in tales about Irish saints, the medieval equivalent of comic book heroes.
Slice of life: Do you know where your cheaters are?
DANIEL McCABE
One in four university students cheat. McGill has developed some effective strategies for stopping many in their tracks.
Also in this issue

Kaleidoscope
A Barenaked Lady studies classical music, Oh to be rich and tenured, Money makes the patients comply

At issue
Is Ontario snubbing the arts and humanities?

On campus
Stargazing for credit, McGill machine shop helps CEGEP students build prize-winning robot, Book art on display in Redpath Library, The power of Piranesi

Federal Treasury Board president Lucienne Robillard recently visited McGill to honour one of the University's fabled professors of yesteryear. A commemorative plaque honouring Maude Elizabeth Seymour Abbott as a figure of "national historic significance" was unveiled. Abbott was rejected by McGill when she applied for medical school -- the University didn't accept female med-students in the 1890s. She proved her worth to the University in the end. As a McGill professor, she became a world authority on heart defects and published The Atlas of Congenital Cardiac Disease.
PHOTO: OWEN EGAN