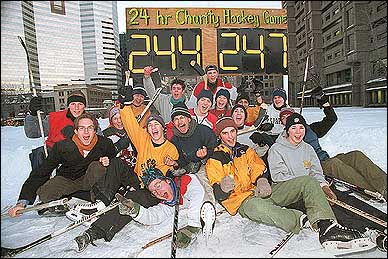 Tuckered out and tuqued: Think some NHL playoff games go on forever? A hardy band of McGill students, taking turns in shifts, skated in a high-scoring affair that lasted a full 24 hours last week. The game, played on the downtown campus's spanking new outdoor rink, helped raise funds for the YMCA.
PHOTO: OWEN EGAN
Deans return for more
BRONWYN CHESTER
Dean of Arts Carman Miller and Vice-Principal (Research) and Dean of Graduate Studies Pierre Blanger have signed up for new tours of duty. Miller aims to defend his faculty's "responsibility to view society from a different perspective," while Blanger plans to attack the brain drain by convincing more researchers to form spin-off companies from their McGill discoveries.
Calling all CEGEPs
SYLVAIN-JACQUES DESJARDINS
McGill is rolling out the welcome mat this Sunday for the province's CEGEP students. It's part of a major effort to convince Quebec students, especially francophones, to come to McGill for their university degrees.
Representing culture
TOD HOFFMAN
Is a museum the best place for Aboriginal artifacts? Can institutions based on Western values do an adequate job of portraying the lives of natives? A panel of scholars tackled the hot topic.
How to build a better planet
MARIA-FRANCESCA LoDICO
The Canadian government was in such hurry to sign the Kyoto Protocol, an international pledge to reduce greenhouse gas emissions by six per cent before 2010, it didn't put much in the way of planning for how it would accomplish the task. That's when they turned to management professor Richard Loulou.
The Fijian hills are alive
BRONWYN CHESTER
In most Fijian households, there's no TV, no radio, no Nintendo, no Internet. What do these people do for a good time? Would you believe singing their hearts out?
Journals online: An update
FRANCES GROEN
The $50 million effort to deliver hundreds of scholarly journals to university researchers' office computers continues. McGill's top librarian, intimately involved in the effort, tells us where things stand.
Fixing sick buildings
JANICE HAMILTON
The air inside our buildings seems to be getting worse and worse. A McGill occupational health professor and a Concordia engineering professor share resources, expertise and graduate students in an effort to find out what is going on.
Hard at work in the midst of play
DANIEL McCABE
When professional athletes encounter cuts, contusions or concussions, they have a well-trained team of McGill medical professors to turn to for help.
Also in this issue
Kaleidoscope
Profile of Gérard Charbonneau, In defence of flies, Leonardo and the girls who love him
At issue
Who should get honorary degrees?
On campus
DriveSafe to drive safely, Science in the news, Rock and Roll 101, Don't get lost in the numbers
Senate
Breach of confidence discussed
Obituary
Eirene Bouros, October 1, 1939 - January 9, 2000