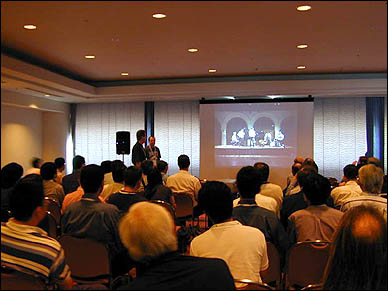 Live from McGill
In what might be the first transcontinental transmission of its kind, an audience of Internet professionals in Japan was treated last week to a live performance by McGill jazz musicians strutting their stuff in Redpath Hall. The brief concert was broadcast over the Internet in real-time audio and video. While there were a few problems synchronizing the sound and video, the broadcast impressed reps from the Internet2 Corporation — the people behind the high-speed research Internet — enough that they have asked the McGill researchers responsible for the transmission for a follow-up demo for a major conference in the fall.
For more information, please see Dateline McGill.
Canadian campuses in creaky condition
Bronwyn Chester
A recent study says that millions must be spent to bring university infrastructure up to snuff across the country. Guess which university is in wobblier shape than most?
McGill doctor to diagnose health care system
Daniel McCabe
Dr Howard Bergman believes he knows how to improve the health care system for the elderly. Now he's being asked to imagine a better future for Quebec's entire health care system.
Building a better robot
Daniel McCabe
In the Macdonald Engineering Building, Martin Buehler and his team are busy devising legged robots that just might sell you cotton candy — and save police officers' lives — someday.
Probing professionals' paycheques
Daniel McCabe
We know our academics are underpaid. Where do things stand, salary-wise, for McGill's managers and professionals?
Diva doppelganger: Paying tribute to the greats of jazz
Sylvain-Jacques Desjardins
McGill jazz instructor Ranee Lee must be fearless. How else to explain her new project, in which she emulates some of the most revered vocalists in jazz history? According to the critics, Lee gets the job done in a big way.
Also in this issue

Kaleidoscope
Meet Wendy Corn, a woman who is winning awards for her whimsical approach to the sometimes staid world of fundraising; Shepherding power lines; Why a wary eye is needed when you wade through letters of recommendation.

Scholarly siblings