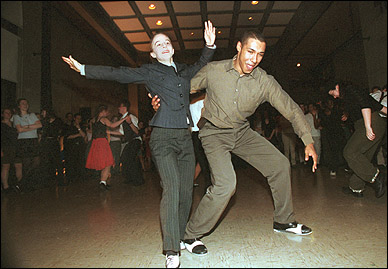 They're swinging to the beat -- Jessica Robillard and Didier Jean-Francois, a McGill graduate in biology, take to the floor at the Swing Dance soirée held last Friday in the Union Ballroom.
PHOTO: OWEN EGAN
Media ethics gets a chair
HÉLÈNA KATZ
The son of newspaper magnate Lord Beaverbrook, Timothy Aitken wants to put what he feels is the neglected area of media ethics on the map by creating the multidisciplinary Beaverbrook Chair in Ethics, Media and Communications at McGill. Former education minister and journalist Claude Devoir will head the selection committee.
Academic renewal, yes, but...
BRONWYN CHESTER
McGill will get to rehire professors soon — both to replace the 200 lost since 1994 and those who will be retiring over the next 10 years. But guess what? Every other major university in North America faces the same loss due to retirements and the competition for new faculty will be stiff. How will the university cope and will salaries be driven sky high just when it looked like McGill was getting out of it financial quagmire?
Why Kyoto's a no-go
SYLVAIN COMEAU
The Kyoto Protocol looked great on paper but the thing's not workable — not in Canada at least. Members of McGill's Centre for Climate and Global Change Research, while celebrating the centre's 10th anniversary, argue that only a change in economic policy and a serious look at alternatives to fossil fuels.
Op-ed: Marketing intellectual property
BRYAN SANCTUARY
Is the University doing its best to manage the intellectual property of its faculty. That was not the experience of this chemistry professor.
What's best to eat in the north?
LOUISE FABIANI
Macdonald Campus's Centre for Indigenous Peoples' Nutrition and Environment (CINE), working with Inuit communities involved, take a look at the high nutritional value of traditional foods vs. the high cost and poorer nutritional value of store-bought food — all against a backdrop of pollutants in the food chain.
Teaching in the hotseat
BRONWYN CHESTER
After a lively exchange of letters and op-ed pieces mostly by McGill professors in The Gazette regarding the quality of teaching at McGill, students took to the floor and had their own say. At two forums held last week, students were largely constructive in their criticism but their demands for smaller classrooms, a more sensitive administration and a well-articulated means of dealing with consistently poor teachers were clear.
Slice of life: Francophones at McGill University
SYLVAIN-JACQUES DESJARDINS
More than one in five students at McGill are francophone and most come with no previous experience of English-language schooling. How do they manage?
Also in this issue

Kaleidoscope
Runner Sarah Ali-Khan, Majoring in Leisure Studies, Drinking à la québécoise

On campus
Getting a feel for evolution, Conference for Shakespeareans, Soccer players

Sheldon Zitner listens intently to Chair of English Maggie Kilgour while David Roseman looks on. Zitner was one of the eight poets published by McGill-Queen's University Press in its Hugh MacLennan Poetry Series and invited to last week's celebration of the series.
PHOTO: OWEN EGAN