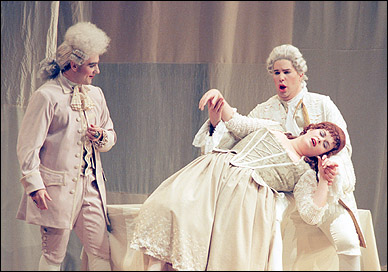 Zoe Tarshis, playing the capricious Nicklausse, Stefan Fehr as the evil Coppélius and Aaron Estes as our hero Hoffmann take centre stage at Pollack Hall to sing in Opera McGill's production of Les Contes d'Hoffmann. The opera, composed by Jacques Offenbach, runs until Jan. 30. For more information, please see On campus.
PHOTO: OWEN EGAN
MUHC task force to focus on pediatrics
DANIEL McCABE
Some physicians and staff at the Montreal Children's Hospital are concerned about how their hospital is fitting into the McGill University Health Centre. A new task force aims to see how things are working out.
Schools need help
HÉLÈNA KATZ
In a new report, the Board of Trade of Metropolitan Montreal warns that the city's universities are in danger of sliding into mediocrity. Their prescription? Better government funding, higher tuition fees, and more flexibility from the universities themselves.
Behind the masks: pediatric anesthetists
BRONWYN CHESTER
There is a worrisome shortage of anesthetists who specialize in children. Given the critical tasks they perform, it's a shortage the health care system can't cope with for long.
Mapping the growing brain
SYLVAIN COMEAU
What goes on inside kids' brains anyway? Researchers at the Montreal Neurological Institute are spearheading an ambitious multi-year effort to find out. The end result will be the world's first pediatric neuroanatomy atlas.
Tales of the city
LESLIE STOJSIC
Urban geographer Brian Ray specializes in examining how different groups — immigrant women and gay men, for instance — establish a place for themselves in major metropolitan areas.
Packed house for Payette
SYLVAIN-JACQUES DESJARDINS
Astronaut Julie Payette, McGill's most recent graduate to go into space, returned to her alma mater with tales about the Space Station Mir and zero gravity bathroom etiquette.
Lessons in leadership
DANIEL McCABE
Sometimes they're blamed for things that aren't their fault. Sometimes they're treated far too well. And there's always something that needs attending to. Still, university leaders say their jobs offer "enormous satisfactions."
Also in this issue

Kaleidoscope
Profile of Peggy Greene, MRI panic, Doctors and the drug companies

At issue
Should there be a Hippocratic Oath for scientists?

On campus
Opera from a woman's perspective, Weather forecasting, Textbooks online, Cheap condoms, Space enthusiasts, Billiards and beer

Students Jeff Heaton, Mathieu Soulié and Ryan McGrath take to their shovels to clear the way for McGill skaters. With or without hockey sticks, this new ice rink, located beside the broomball rink on the lower campus downtown "is for everyone," says Heaton who came up with the idea to reinstate the McGill community rink. The rink was made and is maintained by Facilities Management while financial support has come from the Principal's Office and the Students' Society of McGill University, among other campus agencies.
PHOTO: OWEN EGAN