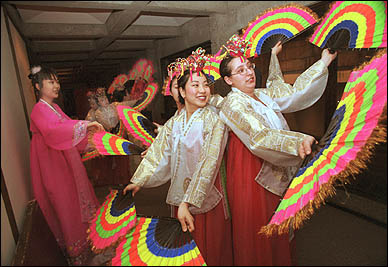 Korean Night 2000, a gala featuring traditional fan dance, music and martial arts, celebrated Korean culture last Thursday night. The event was co-sponsored by the Korean Studies Program and the Korean Students' Society of McGill University. Here a fan dancing troupe prepares to hit the stage.
PHOTO: OWEN EGAN
Will Coke be it?
DANIEL McCABE
Some students opposed to McGill's planned cold beverage agreement with Coca Cola -- a deal that would give the cola giant exclusive rights to sell its products at the University -- have forced a student referendum on the issue. McGill stands to lose out on millions of dollars if students vote to send Coke packing.
Music to their fears
BRONWYN CHESTER
Even though two successive education ministers told McGill they backed the idea, the Faculty of Music was stunned to discover that anticipated government funding for much-needed new facilities won't be handed over after all.
Probing life beyond the Earth
SYLVAIN-JACQUES DESJARDINS
Former McGill student David Levy, arguably the most famous amateur astronomer on the planet, says it's almost certain that there is life out there in the cosmos. But while we're looking for it, we ought to keep our eyes peeled for comets that could crush Earth.
When the UN comes calling
BRONWYN CHESTER
Law professor Patrick Healy received a rare opportunity. He is helping shape the criminal code for an entire country -- Eritrea.
The explosive work of a volcanologist
PATRICK McDONAGH
John Stix travels to some of the world's really hot spots. Stix is engaged in a long-term effort aimed at unravelling the mysteries surrounding why some mountains blow their tops.
Romancing the mafia
SYLVAIN COMEAU
From Public Enemy to The Godfather to The Sopranos, mobsters have become as familiar an American archetype as the cowboy.
Universities imperilled
BERNARD SHAPIRO, ANDREW TISCHLER, ROBERT LACROIX & PATRICK LEBEL
The rectors and student leaders of both of Montreal's world-class research universities say the excellence of their institutions is slipping away thanks to the Quebec government's reluctance to fund its universities properly.
A room of their own
MARIA-FRANCESCA LoDICO
For 100 years, Royal Victoria College has given McGill's female students a place to call home where they can wear fuzzy slippers, gossip in the hallways and establish friendships that will last a lifetime. Oh, and sneak in the odd boy.
Also in this issue

Kaleidoscope
Filmmaker Catherine Vidal, the enduring legacy of China's remarkable Song Dynasty, Music professor Kevin Dean's reluctant contributions to an Oscar contender

On campus
Dissecting disasters, women in business, A former Red Guard looks back, gay positive social work, the business of being a writer

Senate
McGill's shrinking staff


PLEASURES OF THE FLESH: Students from the School of Physical and Occupational Therapy recently put their fingers to work, offering massages in the University Centre for students stressed out from mid-terms and the February blahs. Three bucks bought you 10 minutes of their expertise. The physical and occupational therapy students were raising money for a convocation celebration they're planning for themselves.
PHOTO: OWEN EGAN