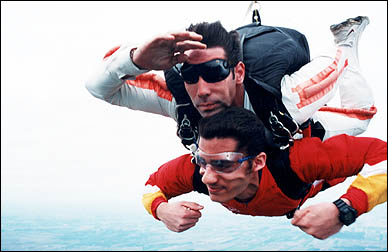 Free to fly at last! Ali Hammoud, on the bottom, celebrates his graduating with a B.Comm in this free fall at 7,500 feet. Accompanied by instructor Carl Ledoux, Hammoud fell for 10 seconds before his parachute opened. The rest was a lulling four-minute sail to the fields near Farnham, Quebec, home to Nouvel Air, the company where the McGill Flying Club runs its flying and sky-jumping programs.
PHOTO: Daniel Paquette
Road map to renewal
Daniel McCabe
McGill will be receiving 162 Canada Research Chairs -- lucrative new academic positions funded by the federal government. Only the University of Toronto is getting more. McGill is also committing itself to matching those new positions through two new programs aimed at rewarding the top professors already working at the University.
60-million dollar man
Daniel McCabe
McGill-trained chemist Richard Tomlinson, a scientist and an entrepreneur, has made the largest-ever single gift to McGill -- maybe the biggest gift ever made to any Canadian university. The gift will result in a major boost to graduate fellowships, improved science teaching and several new endowed chairs.
So who is this guy
Daniel McCabe
When Richard Tomlinson retired as a professor, he decided to research how to make money. "I got plenty good at it."
Bioinformatics: wave of the future
Daniel McCabe
McGill is positioning itself to be a major player in a burgeoning new field that marries computer science with medical biology.
My PC didn't do that before
Bronwyn Chester
Thanks to a new deal with Cisco Systems Inc., McGill workstations are going to become re-wired and much more interesting. E-mails with voice message attachments and high quality videoconferencing on computer terminals are in the cards.
Convocation cops
Sylvain-Jacques Desjardins
As graduates head up to the stage to pick up their hard-earned degrees, they don't want anything to blemish a once-in-a-lifetime day. Michael Smith and his team of university marshals make it their business to ensure that all runs smoothly.
Museums under the spotlight
Bronwyn Chester
The Redpath Museum is playing host to an unusual exhibition, one that spotlights how museums themselves have gone about doing their business over the years.
It takes a village to protect a mountain
Bronwyn Chester
Biology professor Martin Lechowicz calls it "a town-gown relationship of the best sort." McGill and the town of Mont-St-Hilaire are teaming up to safeguard an extraordinary ecosystem.
Also in this issue

Kaleidoscope
Macdonald Campus technician Bob McEwen's efforts to make life better for kids with neurological problems, Mr. Rogers becomes Dr. Rogers, Memo to Mike: Support the liberal arts

On campus
New teaching awards, Baseball on display, Theses to remember

In memoriam
Jessie Boyd Scriver, Wilfred Cantwell Smith, John Michael Robson

Convocation Supplement

Meet the accomplished men and women who earned honorary doctorates and emeritus professorships from McGill this spring.