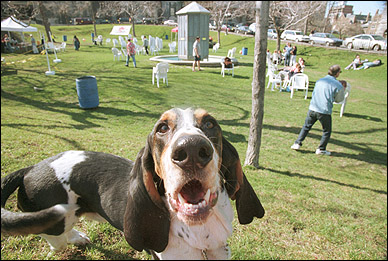 The dog days of summer are fast approaching. As engineering students recently got things ready for an event near the Three Bares statue, one of the students' dogs approached our intrepid photographer. "I'm ready for my close-up, Mr. DeMille," the mutt's soft eyes implored.
PHOTO: OWEN EGAN
Management's next dean
DANIEL McCABE
Gerald Ross is taking over the helm of the faculty his father helped create. After advising teens on how to cope with their parents and IBM on how to rethink its business practices, Ross is poised to lead the way as the Faculty of Management redefines itself.
More TAs expected
SYLVAIN-JACQUES DESJARDINS
Vice-Principal (Academic) Luc Vinet is proposing that the University hire 200 more teaching assistants to bolster the University's teaching efforts. Vinet says TA positions are also vital tools for training and supporting the University's graduate students.
Mountain babies
LOUISE FABIANI
Physiology professor Jacopo Mortola tackles an old mystery — do high altitudes endanger unborn babies?
Time to get serious about the web
DANIEL McCABE
McGill's new Web Communications Group is ready to lead the way as the University aims for a more focused and compelling presence on the Internet.
Composing himself: Denys Bouliane
SYLVAIN-JACQUES DESJARDINS
The musical director of the McGill Contemporary Music Ensemble is playing a leading role in putting together a massive concert that Montrealers aren't likely to ever forget.
Slice of life: A front row view when the gavel comes down
HÉLÈNA KATZ
A unique internship program in the Faculty of Law offers students the opportunity to see how court cases unfold and to see judges in a very human light.
Also in this issue

Kaleidoscope
McGill hockey star Matthieu Darche prepares for the NHL, Nike's Phil Knight tells his alma mater, "Not a penny more," Ontario gives private universities the go-ahead

On campus
Celebrating Cohen, SSMU's best and brightest, New sprinklers in residences pass trial by fire, Bird boosts birds

McGill won the battle, but lost the war. McGill's eight-man rowing crew won the main race and the Blade Trophy, but Queen's reigned victorious overall, capturing the Lorne Gales Trophy.