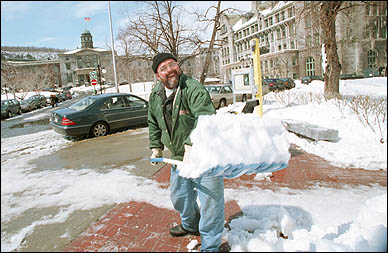 A rite of Montreal spring seems to be at least one April snowstorm — and we were lucky enough to have two! Richard Coleman of Facilities Management looks as if he's enjoying the last —touch wood — few feet of the season's snow.
PHOTO: OWEN EGAN
Order of Quebec given to many of our own
HÉLÈNA KATZ
McGill struck it rich in the awarding last week of the Order of Quebec. No less than four McGill professors, among a total of 29 recipients, were honoured with this highest award in Quebec. They included Emeritus Professor of Philosophy Charles Taylor, Paul-André Crépeau, emeritus professor of law, psychology professor Ronald Melzack and mining and metallurgical engineering professor John Jonas.
Jukier to stay on
MICAH LOCILENTO
She's staying — for one more year. Dean of Student Rosalie Jukier opted to add another year to her five-year deanship to continue her work helping first-year students better "negotiate the McGill maze."
To those who cannot live with the status quo
PETER G. BROWN
If you're one of those who cannot live with the status quo where the state of the world's people and environment is concerned, read this. In a reprint of the introduction to his just-published book, Ethics, Economics and International Relations, the director of the McGill School of Environment advocates a new foundation for "protecting and reconstructing the commonwealth of life: the biosphere of which we are a citizen."
The case of the missing sink
BRONWYN CHESTER
Peatlands may just turn out to be an invaluable ally in the quest to absorb carbon dioxide, the most important of the greenhouse gases. Geography professors Nigel Roulet and Tim Moore are studying the Mer bleue peat bog, near Ottawa, to understand just how this little-known ecosystem does it.
A guide to McGill's day camps
SYLVAIN COMEAU
Wondering what to do with your children this summer? McGill's got a few suggestions: a sport camp that puts the emphasis on co-operation; a bilingual music camp where in two weeks the kids put together a musical production; a camp dedicated to the arts, science and play; and a science camp where children make everything from holograms to bridges to liquid nitrogen ice cream! Sound intriguing? Read on.
Op-ed: Endangered species
DAVID M. GREEN
Biologist Green is one conservationist who is happy with the government's Species at Risk Act. Chair of the Committee on the Status of Endangered Wildlife in Canada, Green believes that the role of the committee is to continue to designate what wildlife is endangered while it's the government's role "to turn COSEWIC's list into law."
From a side-room of her own
LOUISE FABIANI
Virginia Woolf had it easy compared to Chinese concubines. The closest they cam to a room of their own was a side-room in a household ruled by the first wife. Nevertheless, a few managed to learn to read and write and turn their hand to poetry. Speaking to an enraptured audience, Professor Grace Fong read some of their poems and told their story.
Slice of life: Learning while helping others
FRANCESCA LoDICO
Think of management, architecture and law and acts of altruism don't usually come first to mind. But some students in these professional schools are finding satisfaction and developing hands-on experience as they turn their hand to building homes for the poor, providing legal counselling for those who could never pay for it, and turning their management skills to helping community organizations.
Also in this issue

Kaleidoscope
Green activist Jeff Roberts, Samosas make fundraising savoury, Click here to feed a hungry person

On campus
Understanding the earth's evolution; new library system to be on net; Students give $.05 million to libraries in yet another gift.

At issue
What would you like to see in an environmental policy for the University?

Editor's note

If there seems to be something of an environmental bent to this issue, it's not by accident. Given that this Saturday is Earth Day and given the wealth of knowledge, research and caring at McGill regarding the environment, I thought it appropriate to expose a little of that to the greater McGill community. As Martin Lechowitz mentions in his "At Issue" comment, this university is privileged in having such an abundance of environments and experts in each. One campus agricultural, the other seriously urban. Then, there are the natural or semi-wild environments of the Gault Estate at Mont St. Hilaire and the Morgan Arboretum, not to mention Mount Royal. For those of us "who cannot live with the status quo," as Peter Brown, director of the McGill School of Environment puts it, we may have to "see how we have led ourselves astray," as you will read in these pages. But part of finding that out, surely, must be in the appreciation or reappreciation of such sanctuaries of nature as the Gault and the arboretum. I think our profile this week, Jeff Roberts, would agree.