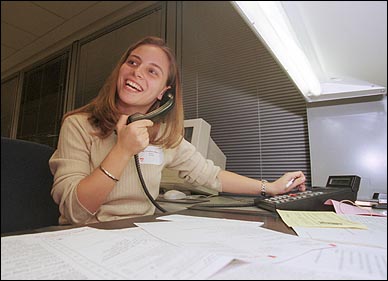 Nursing student Christine Leblanc let her fingers do the walking Tuesday night. They were strolling for cash. Leblanc was part of a group of students and alumni who worked the phone lines over two nights in a bid to get McGill some money. They were the team for the annual McGill Phonathon. Fuelled by pizza and cake, the volunteers earned $83,769 in pledges for the University in their first night of work.
PHOTO: OWEN EGAN
Mostly a 'good news' budget
DANIEL McCABE
Universities had reason to applaud when federal finance minister Paul Martin presented the country's new budget recently. Millions will be spent on creating new jobs for professors and on research infrastructure. But the overall funding picture for higher education doesn't look to improve much.
Better be ready for Banner
DANIEL McCABE
McGill's new Financial Information System comes on line this June. The Banner Project team is gearing up to train hundreds of McGill staff to use the system and to soothe their worries as the University moves towards the "paperless workplace."
Gathering the history of the book in Canada
BRONWYN CHESTER
McGill's Yvan Lamonde will play a leading role as a small army of Canadian researchers tackle the history of books in this country.
Signing on
SYLVAIN COMEAU
Professor Rachel Mayberry and her team of graduate students have uncovered new details about how deaf people learn sign language. The process is remarkably similar to the acquisition of spoken languages — the earlier you pick it up, the better. But there are important differences as well.
Casino excitement attracts the elderly
HÉLÈNA KATZ
Casinos are increasingly targeting senior citizens as potential customers, but many elderly individuals are at risk of developing gambling problems. To make matters worse, the elderly are even less likely than other gambling addicts to seek out help.
The trials of being an expert witness
SYLVAIN-JACQUES DESJARDINS
Professors are often called on to lend their expertise to court cases. In return, they get grilled by hostile lawyers, hear about harrowing crimes and find themselves in the glare of the media.
Also in this issue

Kaleidoscope
University planning expert Chuck Adler, from boosting vivisect ions to boosting vegetarianism, Beaver College tires of the teasing

At issue
Best professors' characteristics

On campus
Cooke on cooking, this is your brain on drugs, dean for a day, McGill Drama Festival

SARAH THE SWIFT: On Friday and Saturday, McGill will be hosting the national track and field championships. That's only appropriate, given that the University served as the host for the very first such event 100 years ago. Sarah Ali-Khan, a graduate student in pharmacology, is one of McGill's top medal hopefuls, having won three gold medals at the provincial championships last month.
PHOTO: ANDREW DOBROWOLSKYJ