Mac woodsmen a cut above competition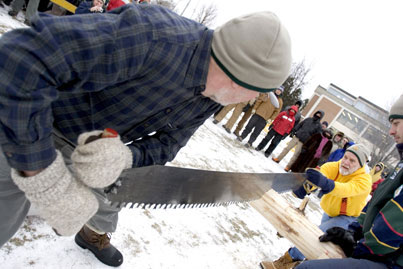 Eric Norris, former associate dean of Student Affairs, and Steve Olive, retired Registrar, make the first cut as part of the opening ceremonies of the 47th annual McGill Woodsmen Competition held at Macdonald Campus.
Steve Campbell
By Neale McDevitt | They came, they sawed, they conquered. When the sawdust finally settled at the 47th annual McGill Woodsmen Competition at Macdonald Campus on Jan. 27, the Mac men's team stood alone atop the woodpile, having pulverized 14 other squads from Canada and the United States to win its own event for the fifth consecutive time.
Buoyed by the enthusiasm of the small but hearty group of fans who braved -20 degree weather to cheer the home team, Mac's lumberjacks won six of the 13 events.
The veteran Mac squad, captained by Patrick MacDougall (Agricultural Economics) and anchored by Jonathan Blais, North America's reigning collegiate lumberjack champion (see the Jan. 25 issue of the McGill Reporter), outdistanced its nearest rival, Sir Sandford Fleming College by 145 points.
Nova Scotia Agricultural College took third place.
The win gave the Mac team a perfect three-for-three record in Canadian Intercollegiate Lumberjacking Association (C.I.L.A.) competitions this season.
With only one competition remaining, the West Island woodsmen are poised to win their fifth consecutive national title.
On the women's side, the event proved to be a disappointment for the home team.
As with the men, the Mac women had started the season strong, winning the first two competitions.
However, on this day, the wood chips didn't fall their way and our lumberjills found themselves behind Sir Sandford Fleming and the victorious team from the Nova Scotia Agricultural College.