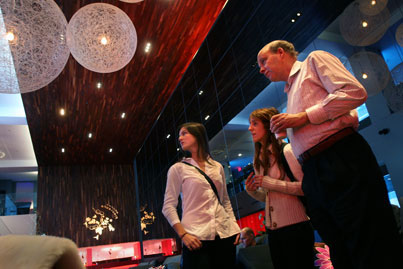 Alex L'homme, BCom U1, Rivkah Hoffman, BCom U1 and Desautels Faculty of Management Marketing Prof. Karl Moore check out the swanky lobby of the W Montreal as part of learning about the "experience economy."
Owen Egan
The Wow Factor: Desautels students experience boutique hotel
By Michael Bourguignon | It's 10 a.m., barely two coffees into a blustery Montreal morning, and we're sitting amidst the lush fabrics, muted lighting and weird geometric lines of some of the strangest furniture ever assembled in a hotel lobby.
Er, make that "living room." This is, after all, the W Montreal, the two-year-old local progeny of the Starwood family of Sheraton, Westin and—now—W hotel chains. What lesser purveyors of temporary accommodation refer to as mere "lobbies" is something entirely different in the vernacular of one of the city's most chichi homes away from home. In a similar attempt to punctuate the posh nature of this upscale abode, the door and desk personnel are referred to as "talent" while the housekeepers are "stylists."
Someone in our midst is heard to observe, "Personally, I find it all a bit clubby for this early in the morning."
Not your parents' Holiday Inn
Still, there's a feeling of anticipation in the air as a couple of dozen students from McGill's Desautels Faculty of Management sip their coffees, laze around the overstuffed sofas and await the grand tour of what Professor Karl Moore intends as a lesson in a brand of consumerism with which few of his students can personally identify. Clearly, this is not their parents' Holiday Inn.
"The W is part of the 'experience economy' that we talk about in class," explains Professor Moore, who brought the group of MBA and undergraduate international business students here to see for themselves what makes such an entity tick. "Nowadays, we, as consumers, are looking for an experience, partly to entertain us because we're jaded—we want something exciting and new."
It's an example of the evolution of our economy, said Moore. Whereas commodities, then manufacturing and then the service industry once made money go around, today it's a mix of services and the quest for something different.
For the minivan crowd, that could mean packing up the kids for a trip to Disneyland, or perhaps stealing away for a weekend of shopping, skiing and overindulging with friends at Mont Tremblant. For an equally exciting experience closer to home, there is, perhaps, the W.
If it's good enough for Bruce Willis and the Grand Prix's Team Ferrari—as sales director Philippe Champagne hints it is—you would think the W Montreal would wow a crowd of hip, young BCom and MBA students.
Well, yes and no.
The consensus: the swank W is a nice place to visit, maybe even knock back a few drinks at the bar-cum-nightclub if the doorman thinks you're good-looking enough to get in, but you might not want to stay here unless someone else is picking up the tab.
That could be anywhere from a couple of hundred to $4,000 a night, depending on the room and the season—and about 80 percent of the time, Champagne explains to his wide-eyed charges, it is indeed someone else picking up the bill as U.S. and other foreign companies dispatch representatives to the city.
With its electric blue lighting, peek-a-boo showers and offbeat (read "trendy") attitude, the W is not for everyone. Take the Chinese ambassador who insisted on booking a room sight unseen, despite the hotel's gentle suggestion that it might not be quite his cup of tea. After arriving, having a look around and haggling over price, he ended up at the Ritz-Carlton.
Blame it on the hotel's "wow" factor: it's most decadent suites are the Wow and Extreme Wow—monikers echoed by the students as they toured the accommodations.
"I felt like I had to dress up a bit to come here," said undergraduate Mathieu Bertrand, 20.
His classmate, 19-year-old Max Risen, was somewhat more philosophical. "They seem to want to attract a young crowd, but when you're 20, you can't afford to stay here."
Still, he added, "if Professor Moore had said we were going to a Best Western, I don't know if I would have come."