A childhood lesson never forgotten
By Neale McDevitt | It happened almost 60 years ago, but Manjit Singh remembers it like it was yesterday. It was 1947 and the partition of Hindu-dominated India to create the Muslim nation of Pakistan had erupted in bloodshed between the religious groups.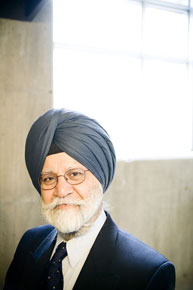 Claudio Calligaris
"Refugee trains on both sides were being attacked, everyone on board was being killed and then trains full of corpses were being pushed back over the border," remembered the director of McGill's Chaplaincy Services from his Brown Building office.
Making a desperate dash for India with his family aboard one such train, the young Sikh's heart stood still when the train came to an abrupt stop and an angry mob materialized a mere 1,000 yards away. "We feared for our lives."
In a seven-hour standoff, Indian soldiers escorting the train repelled the attackers. Eventually, the refugees made it back to the original train station to begin their agonizing wait for another chance at freedom.
Later that day, a train going in the other direction pulled into the station and the conductor, a Muslim, prepared to eat his lunch. Singh's 17-year-old brother, who hadn't eaten in three days, stood on the platform and stared. The conductor struck up a conversation with the teen, whose turban announced his religion to all. Listening to the harrowing tale, the conductor wrapped up his modest fare and gave it to the Sikh boy, whose name he never knew. That day, a family of seven ate like royalty on the lunch of a single man, a meal that would nourish much more than the body of the 10-year-old Singh.
"That simple act was the point at which a lot of my enlightenment began," said Singh. "Because it showed me that one person can make a difference if they conduct themselves as a role model. We must judge people as individuals, based on their own merit, not as groups. It is a lesson that I've carried with me all my life."
When Singh came to Canada in 1961 as an MBA student at the University of Western Ontario, he immediately realized that he was to serve as a spokesperson for his religion. Flying into Toronto on a Sunday morning, he wandered around a deserted downtown hoping to kill some time before catching the bus to London. Meeting a police officer, Singh asked if there was a movie theatre nearby. "He told me that no one watched movies on Sunday because it was God's day. I told him that in my religion every day is God's day and we can see a movie whenever we want," laughed Singh. "Many of my early conversations were spent explaining what it meant to be a Sikh."
Drawing on his personal experience and the master's in Indian medieval history that he had earned in New Delhi, Singh had no problems edifying people on his religion. "But I quickly realized how little I knew about other traditions." He began participating in interfaith discussions to gain perspective. Today, Singh is president of the Interfaith Council of Montreal.
At one such gathering in 1998, Singh was approached by a Catholic priest from McGill's Chaplaincy Services who had been contacted by a Sikh student distraught over the sudden death of a friend. Not only did Singh meet and counsel the woman, he volunteered his services to the chaplaincy and became McGill's first Sikh chaplain later that year. After starting a monthly meeting for Sikh students, he was struck by "how many young people are not really familiar with their religious traditions."
Singh became director of Chaplaincy Services in August 2006. Although he is first non-Christian to hold the position, Singh seems unimpressed by the significance of it all.
"It's not a factor. All the chaplains have a great respect for one another," he said. "We're not competing for converts—we're just offering spiritual counseling for people in need."