Trottier Symposium blends physics and philosophy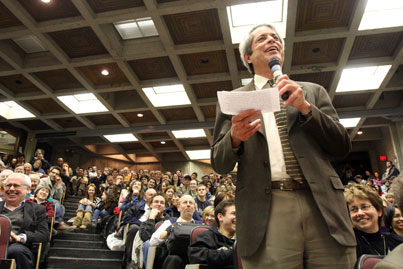 McGill grad and benefactor Lorne Trottier has fun grilling the panel of the sold-out symposium that bears his name. See story on Page 4.
Owen Egan
By Pascal Zamprelli | As the long trail of people snaked its way around the main floor of the Leacock Building, Room 132 looked more like the site of a big rock concert, not the annual Lorne Trottier Public Science Symposium. But the fact is that the hundreds in attendance, and the hundreds turned away at the door, had not come to see Pink Floyd or U2. They were drawn by a group of physicists set to discuss the very nature of the universe and life as we know it.
A Cosmic Coincidence: Why is the Universe Just Right for Life? brought together a panel of the world's foremost physicists to debate one of the most controversial topics in astrophysics: the anthropic principle, which asserts that the fundamental constants of nature have the values they do simply because if they didn't, we wouldn't be here to observe them.
Moderator and McGill physics Professor Victoria Kaspi, noting that this debate evokes "uncharacteristic emotional intensity" in scientists, introduced the powerhouse panel assembled for the event: Leonard Susskind of Stanford University, widely regarded as the father of modern string theory; Nobel Laureate David Gross, director of the Kavli Institute for Theoretical Physics at the University of California at Santa Barbara; Paul Davies, director of Beyond: Institute for Fundamental Concepts in Science at Arizona State University; and George Efstathiou, director of the Institute of Astronomy at Cambridge University.
Davies framed the debate—could the universe have been different? If so, why is it the way it is? Why is it fit for life? Anthropic reasoning sees the emergence of life as central to the structure of the universe–which handily explains why the values of certain fundamental physical parameters are those that make life possible, especially given that they differ from the values obtained using traditional mathematical equations.
This led Efstathiou to question whether this was "an explanation, or an act of desperation." Gross challenged the scientific nature of the debate: "Questions that are scientific are susceptible to observation, experimentation and calculation." For him, resorting to anthropic reasoning to answer questions that science can't is dangerous. Susskind, more open to the anthropic principle, conceded that at this point in history "there is no real controversy, there are only questions," but made sure to remind Gross that "all great ideas are always dangerous to somebody."
A very brief glimpse of what was a truly fascinating discussion, which blurred the lines between science, philosophy, and religion. For those who missed it, there is good news: a webcast is available at http://www.physics.mcgill.ca/events/trottier-symposium/.