Around campus
A rendez-vous with the Principal: Winter Town Hall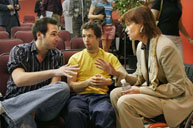 Owen Egan
Monday, Feb. 12 will be an occasion to exchange ideas on the university's priorities and aspirations with Principal Heather Munroe-Blum.
From noon until 1:30 p.m., the Principal will be hosting the Winter Town Hall, a forum in which McGill students, staff and faculty can share their concerns and suggestions about how their university can be improved.
This will be the second of Prof. Munroe-Blum's three Town Halls for the 2006-07 academic year.
To focus the discussion, three broad themes have been chosen for this Town Hall: environment and sustainability; meeting the needs of students within a research-intensive university; and funding of the university.
The Principal plans to open the gathering with a brief talk on the opportunities and challenges that lie ahead for McGill before ceding the floor to the audience.
Winter Town Hall, Monday, Feb. 12, noon to 1:30 p.m., Strathcona Anatomy and Dentistry Building, 3640 University St., Room M-1.
Music lovers, take note
On Saturday, Feb. 10, renowned chamber music ensemble Musica Camerata Montreal will bring its talent and passion to the stage of Redpath Hall for the third time this concert season. The ensemble will perform works by the late-19th- and early-20th- century European composers Joseph Suk, Alexis Roland-Manuel and Gabriel Fauré. Musicians Berta Rosenohl (piano), Luis Grinhauz (violin), Chantale Boivin (viola) and Mariève Bock (cello) will play Suk's Trio op. 2 in C minor for piano, violin and cello, Roland-Manuel's Trio no. 2 for violin, viola and cello and Fauré's Quartet no. 1 in C minor for piano and strings op. 15.
Recognized as Canada's foremost chamber music ensemble, Musica Camerata will celebrate its 37th anniversary this season.
Saturday, Feb. 10, 8 p.m., Redpath Hall, 3461 McTavish. Admission: $27; $18 seniors and students. For more information or to reserve tickets, contact 514-489-8713 or on the web, www.camerata.ca.
Le freak, c'est chic!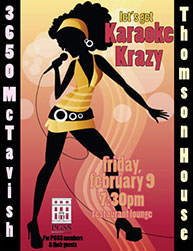 Whether it's late hours at the library or long days at the lab bench, being a grad or post-doc student at McGill means a whole lot of dedication and hard work. Fortunately, a little well-earned respite and relaxation is at hand, as the Post-Graduate Students' Society will be hosting its "Karaoke Krazy" party at Thomson House on Friday, Feb. 9. If you're a grad or post-doc student who could use a night away from books and beakers, don't miss this chance to get in touch with your inner pop star and show your peers just how far you can carry a tune. Admission is free and the event is open to PGSS members and their guests.
Friday, Feb. 9, 7:30 p.m. Restaurant Lounge, Thomson House, 3650 McTavish St. For more information: 514-398-3756, http://pgss.mcgill.ca/karaoke07.html
Freaky Friday forecast calls for storm science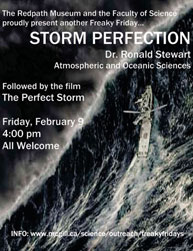 The 1998 Ice Storm and 2005's Hurricane Katrina are recent examples of what atmospheric scientists call perfect storms, which occur when several factors converge to create an especially catastrophic meteorological event.
Prof. Ronald Stewart of Atmospheric and Oceanic Sciences will elucidate the process by which such storms gather when he delivers the Feb. 9 Freaky Fridays science presentation at Redpath Museum.
In accordance with Freaky Fridays custom, Prof. Stewart's presentation, "Storm Perfection," will be followed by the screening of a popular film related to its subject, in this case, The Perfect Storm, the 2000 film which dramatizes a real-life prefect storm that surprised fishermen in the North Atlantic in 1991.
Friday, Feb. 9, 4 p.m., Redpath Museum, 859 Sherbrooke W. Admission: $5 at the door, all proceeds to fund construction of a giant origami Pteranodon to be suspended above the museum's dinosaur. For more information, contact Ingrid Birker, 514-398-4086, ext. 4094 or see www.mcgill.ca/science/outreach/freakyfridays.
Better living through sunshine
On Feb. 15, McGill architecture students and their partners will unveil plans for the solar-powered house they will build this spring and take to Washington, D.C. in the fall for the international design competition Solar Decathlon 2007. Despite relying entirely on solar power for electricity, their house will meet the energy needs of a contemporary residence for two, complete with TV, computer, washing machine, dishwasher and hot showers. A wine and cheese reception at the School of Architecture will give anyone interested in this exciting project the chance to take a virtual tour of the solar house and learn about its innovative, environmentally friendly design features. The design team, which consists of a dozen McGill students as well as students from Université de Montréal and Ecole de Technologie Supérieure, will begin building their house near the corner of Peel and Notre Dame streets in late March and should have it finished by mid-summer. In September, they will separate the house into sections and transport it by truck to Washington for the competition.
Thursday, Feb. 15, 6-9 p.m., School of Architecture, Macdonald-Harrington Building, 815 Sherbrooke W. Admission: $20, includes wine and cheese. For more information, 514-396-8800, ext. 7410 or www.solarmontreal.ca/.