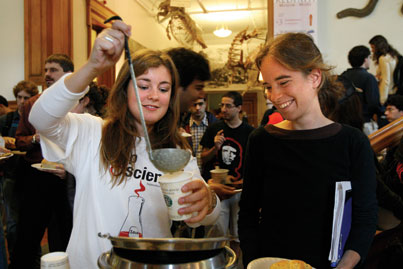 Doctoral student Neeltje Boogert (right) looks forward to a nice, hot bowl of soup ladelled out by volunteer Geneviève Friesen, VP Internal of the Science Undergraduate Society.
Owen Egan
Nourishing bodies and minds
Faculty's second Soup and Science series a hit
Balbir Gill | Students hungry for soup and some knowledge filed into the Redpath Museum auditorium every day at lunchtime for the Soup and Science series held September 11to 15. Professors from computer science to physics, biology, psychology, geography and chemistry presented their research to a grand total of almost 500 students. Dean of the Faculty of Science Martin Grant was on hand to quiz the audience after the presentations, and showed off his throwing arm by chucking T-shirts to students who got the right answer.
Six professors had three minutes each to present their work. The concentrated content and high-energy presentations were reminiscent of speed-dating, albeit probably less stressful. "It's like a music sampler," said Grant "There's just enough time to get the buzz and then if you want to explore the research further, you can speak with the professor afterwards." He described it as a good opportunity for undergraduates and professors to talk to each other.
Friday's session included biology professor Lauren Chapman discussing the implications of researching fish in low-oxygen (hypoxic) water. Her team studied fish living in low as well as high oxygen environments and compared the same kinds of fish in a lab setting where they were able to control oxygen levels in the water. Atmospheric and Oceanic Sciences professor Ronald Stewart presented research on weather extremes such as the Montreal ice storm and major droughts in the Prairies, and the possibility that such extremes, may increase with climate change. Psychology professor Kristine Onishi used The Cat in the Hat to show how a child's understanding of false belief is key to their cognitive development.
Undergraduate Research Officer Victor Chisholm said the intent is to make it easy for science undergrads to locate the research area and professors they may want to work with. The Soup and Science events were organized by Chisholm in collaboration with Director of Administration Robyn Wiltshire and Administrative Coordinator Jennifer McCarney. "The purpose was to demystify professors and research for students and to show students what's there outside their home environment." Chisholm said that undergraduate students in science have the chance to get research work under their belt fairly early if, for example, they take an elective that allows them to do independent projects and research under a professor's supervision. Student Jenny McManus (U2, BA & Sc.) attended every Soup and Science presentation last week and welcomed the chance to learn about the variety of research taking place at the university. McManus said she spoke with professors over lunch but also enjoyed discussions that broke out amongs students following the presentations. "What I enjoyed the most was the interaction between all ages and departments."