Profile
Noelle Sorbara: Impresario today, negotiator tomorrow
MJ Stone | For Noelle Sorbara, the 20-something executive director of the increasingly renowned Pop Montreal Music Art and Film Festival, anything is possible. With her background in ancient Chinese philosophy, the trilingual Sorbara — she speaks English, Mandarin and French — is poised to take on whatever life has in store. And having inherited some of the political savvy of her father, Ontario finance minister Greg Sorbara, who knows where she could end up? Between her frantic days of studying law and putting the final touches on the festival, which begins in early October, the workaholic Sorbara talked with the Reporter about Pop Montreal and her aspirations.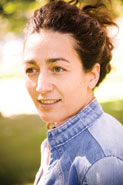 Claudio Calligaris
After spending a year and a half in China, she returned to Canada in 2002 looking for a challenge. "I knew I wanted to do something in Montreal, and when I bumped into Dan Saligman, he asked me if I wanted to start a music festival with him."
"That first year we started out with 5,000 dollars, 15 venues and 150 bands. Today we have a million dollar budget, 30 venues and close to 300 bands, featuring acts like Ramblin' Jack Elliot, Vashti Bunyan and Sloan." Describing her tenure with Pop Montreal as a hands-on MBA, Sorbara insists that even though Pop Montreal has been a wonderful "rock and roll" experience, the music industry isn't the place where she wants to wind up.
While studying at both the graduate and undergraduate levels in religious studies at McGill, Sorbara developed a fascination with Chinese culture that she believes holds the key to her future. After finishing her undergraduate degree, she decided to pursue a master's thesis in ancient Chinese philosophy. "But before I could continue my studies I needed to learn Mandarin. So I went to China and began studying the language eight hours a day. After a year and a half I came away with a profound understanding of the people and culture."
Sorbara says that she is pursuing a law degree that she hopes she can put to use in China-Canada relations. "During my stay in China, I came to understand how conflicts emerged between East and West because of cultural barriers. I developed an understanding of China that might appear at odds with Canadian ideals... although the West might regard the corruption and lack of feminism as suspicious, the Chinese way makes perfect sense to the Chinese. One day I could see myself working as a negotiator between Canadian businesses and non-profits, helping to smooth the way for stronger business ties between the two countries."
When asked whether she might follow in her father's footsteps and pursue a career in politics, Sorbara shrugs and smiles. "I grew up in a political household, it's in my blood." At the age of 14 she was the youngest delegate at the Ontario Liberal Leadership Convention in 1990 and has continued to stump for the Liberals as a public speaker and organizer ever since. However, she's quick to dismiss the cruel and fickle excesses that accompany a life in politics. "Having watched my father get slammed so much and be rewarded so little... it seems awfully unfair. For now, all I want to do is learn a lot. If it leads to politics so be it... but I'm not making any predictions."
Pop Montreal runs October 4 to 8. See www.popmontreal.com for details.