Around campus
Classrooms across the sea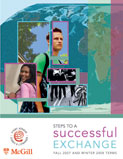 Want to take your studies to the real world? McGill's Exchange Fair 2006 can show you the way. Hosted by the Student Exchanges and Study Abroad (SESA) Office, this year's fair puts you face to face with exchange students from McGill's countless global partner universities — from Japan to the Netherlands and everywhere in between. Who better to ask about a country's best schools, attractions and nightlife? You'll also get tips about the application process, studying abroad and living in a foreign country. Can't make it to the fair? Pick up the new Steps to a Successful Exchange 2007-2008 booklet (pictured left) at the SESA Office on the second floor of the James Administration Building.
The McGill Exchange Fair 2006, Wednesday, Oct. 4, 11:00 a.m. to 3:00 p.m. in the Ground Floor Corridor of the Stephen Leacock Building. For more information: www.mcgill.ca/studyabroad/exchangefair.
Leave it to beaver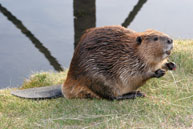 If you're a beaver lover mark Thursday, September 21 on your calendar. That's the day that Canadian art expert François-Mark Gagnon will deliver a lecture on our national rodent as part of the opening ceremonies of the International Meeting of the Society for the History of Natural History (SHNH). Co-hosted by the McCord Museum and the Jardin Botanique, the three-day event will focus on the rich history of natural science that shaped the imagination of Canada and will feature major presentations by some of the world's leading historians of science. Full- and half-day field trips include visits to the Ecomuseum, the Biodome and the Mont Saint-Hilaire UNESCO Biosphere Reserve.
International Meeting of the SHNH, September 21-23. Opening ceremonies (including beaver lecture) are free but charges will apply to most other sessions. For more information: www.mcgill.ca/redpath/conference or contact Ingrid Birker at 514-398-4086 (ext. 4094) or Ingrid.birker@mcgill.ca.

These boots were made for walking
OK, so you've been recycling your paper and plastic for years now and this summer you started composting your eggshells and banana peels. Great. But are you ready to take the next big step and give up your car? Didn't think so. Why not give it a try on Friday, September 22, McGill's official Car Free Day? In conjunction with Car Free efforts worldwide and to promote the reduction of greenhouse gasses, vehicles will not be permitted to enter via the Roddick Gates between 6:00 am and 4:00 pm. Who knows? Maybe you'll like it.
For more information: www.mcgill.ca/rethink/events/#CARFREE2006.
Coming to the aid of others
Rain or shine, McGill's Centraide Committee invites you to raise an umbrella on September 21, and help make your community's skies a bit sunnier by participating in their annual March of 1,000 Umbrellas. Accompanied by balloon-slinging clowns and foot-moving tunes, the March will get underway a block south of McGill's Roddick Gates and culminate near Complexe Desjardins, where Centraide of Greater Montreal will announce this year's campaign objectives.
March of 1,000 Umbrellas, Thursday, September 21, 11:30 a.m. at the corner of McGill College and President Kennedy.
The Internet live and unplugged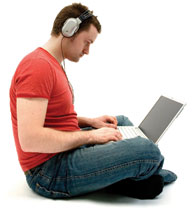 Ever checked your email while sitting cross-legged in the grass on lower campus? Well, now you can, thanks to McGill's new and improved wireless network, which the hard-working computer experts in Network and Communications Services (NCS) upgraded considerably over the summer. In order to take advantage of this service, you need the following: a laptop computer, a wireless network card with corresponding drivers, a software application called NetConnect and a unique login ID user name and password. A free spirit doesn't hurt either.
For more information: www.mcgill.ca/ncs/products/network/wireless.