Kudos
Wearing the red and white at the Olympic Games in Athens
Twenty-six current and former McGill students took part at the Summer Olympic Games in Athens. They consisted of 16 athletes, four administrators, two coaches, three therapists and one referee.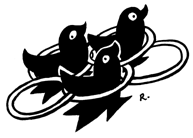 Jack Ruttan
Over the past century, McGill athletes have won a combined total of three gold medals, five silvers and 10 bronzes.
Topping the list is the late Dr. Philip Edwards, a graduate from the Faculty of Medicine. Edwards won a whopping five bronze medals while representing Canada at the 1928 Amsterdam Games, the 1932 Los Angeles Games and the 1936 Berlin Games. He was the only Canadian Olympian to win medals in three Olympic Games until short-track speed skater Marc Gagnon equalled the feat in 2002. Jennifer Heil (management) came close to the podium that year, finishing fourth in freestyle mogul skiing.
Only two McGill athletes have won Olympic gold: swimmer George Hodgson (who won two) at the 1912 Stockholm Games and hockey goaltender Kim St. Pierre at the 2002 Salt Lake City Games.
The athletes were: Andrew Willows, kayaking, (kinesiology); Keith Morgan, judo, (BSc'99), Emilie Mondor, track and field (studied Agriculture in 2000 before transferring); Christopher Kalec, diving (commerce); Samantha McGlone, triathlon, (BEd'02); Sarah Pape, rowing (BA'95); Mara Jones, rowing (BSc'97); Genevieve Meredith, rowing-spare (BSc'01); Doug Vandor, rowing-spare (MSc'98); Marie-Luc Arpin, waterpolo (mechanical engineering); Melissa Collins, waterpolo (BSc'98, master's physical therapy); Andrea Dewar, waterpolo, (BSc'01); Christine Robinson, waterpolo (physiology); Jana Salat, waterpolo (BSc'03, graduate diploma in management); Whynter Lamarre, waterpolo (physical education); Marie-Pierre Gagne, synchronized swimming (began U1 this fall).
The administrators were: Patrick Oaten, head coach, waterpolo (BEd'96); Dave Johnson, head coach, swimming (BCom'74); Mike Homsy, referee, basketball (BEd'81); Derek Covington, COC administrator, track and field (BA'92); Claire Carver-Dias, COC administrator (MA'01); Brigitte Leger, COC physiotherapist, (BSc'83); Diana Perez, COC physiotherapist (BSc'85, MSc'93); Lois Moralejo-Pohlod, COC physiotherapist (BSc'79); Howard Stupp, IOC Administrator (BEng'78, LLB'83, BCL'83); Richard Pound, IOC administrator (BComm'62, BCL'67).
---
The McGill-Montreal Chapter of Sigma Xi granted the Undergraduate Research Award to the following outstanding young researchers in the Faculties of Science, Engineering, and Agricultural and Environmental Sciences.
Naomi Dicks (Animal Science), Corentin Bohl (Natural Resource Science), Joelle Jureidini (Chemical Engineering), Jason Doucet (Metals and Materials Engineering), Yasmin Halwani (Anatomy and Cell Biology), Margaret Kimball (Atmospheric and Oceanic Sciences), Ramzy Wahab (Biochemistry), Ami Tsuchida (Biology), Thomas Dominic Lazzara (Chemistry), Michael Bishop Wironen (Geography), Nicholas Touikan (Mathematics), Nicholas Desy (Microbiology and Immunology), Genevieve Fortin (Pharmacology and Therapeutics), Nicholas Guttenberg (Physics), Lara Alexandra Kuritzky (Physiology), Francis Clement (Psychology).
Each winner demonstrated creativity, originality and perseverance. They received a subscription to American Scientist and registration to the Sigma Xi Annual Meeting and Student Research Conference.
---
At the 70th Montreal Neurological Institute Convocation, Lifetime Achievement Awards were presented to:
Professor Emeritus of Neurology and Neurosurgery Dr. Gilles Bertrand, who advanced surgical treatments and techniques and was instrumental in bringing the computer into the operating room.
Dr. Warren Chippindale, former Chairman and Chief Executive Partner of Coopers & Lybrand, MNI Advisory Board member, trusted advisor to three MNI Directors and successful Chair of all three of the Neuro's capital campaigns.
Dr. Brenda Milner, Dorothy J. Killam Professor of Neuropsychology, a pioneer of neuropsychology, whose "mind and spirit lift the entire Neuro community to soaring heights."
Retired neurologist Dr. Preston Robb, dedicated teacher and mentor, and pioneer in pediatric neurology.
---
Former Principal Bernard Shapiro will be awarded the David C. Smith Award for Significant Contribution to Scholarship and Policy on Higher Education in Canada. The annual award was established in 2001 to honour the late David Smith. Shapiro will deliver a lecture at the ceremony, October 14.