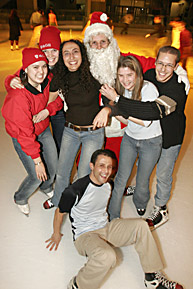 Owen Egan
Tsunami felt at McGill
Jeff Roberts
The McGill community reacted with shock to the news of the Indian Ocean tsunami. A number of students, staff and alumni were affected by the disaster.
Pulp fact
Patrick McDonagh
McGill is the recipient of two new research chairs, funded through NSERC's Industrial Research Chairs program. The two chemistry chairs, held by Theo van de Ven and Derek Gray, will be housed in the Pulp and Paper Research Institute.
Newsmakers 2004
Daniel McCabe
The Reporter's crack team of cable-TV-watching news-gnomes have emerged from their Dorito-strewn couches, eyes red and glassy, greasy hands smeared with newsprint. The 24-hour bouts of channel surfing and paper clipping were all part of the behind the scenes effort to produce the only Top Ten list that matters — McGill's top newsmakers of the year. It turns out our staff, students and professors are getting noticed, by everyone from the New York Times to Sports Illustrated to The O'Reilly Factor.
Board of Governors: Slimming down for the new year
Maeve Haldane
McGill's Board of Governors has gone from 45 members to 25. Here's an overview of the new structure.
Expansion planned for McGill's gym
Jennifer Westlake
The athletics renovations are proceeding apace, with new facilities for martial arts, dance, golf and, eventually, a climbing wall.
Christopher Driscoll
It's a long way from Yellowknife to the dreaming spires of Oxford, as Erin Freeland Ballantyne will soon discover as McGill's 125th Rhodes scholar. Also, if you've noticed a lot of yellow Post-its around campus, they're part of Security's new anti-theft program.
Where the university is at with the harassment and discrimination policy.
Simply Sweetly sings snowy songs, John Buchanan discusses the video game industry, the Jeune Chambre de commerce de Montréal provides networking opportunities, the music faculty brings Louis Riel to life through song.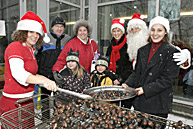 Owen Egan