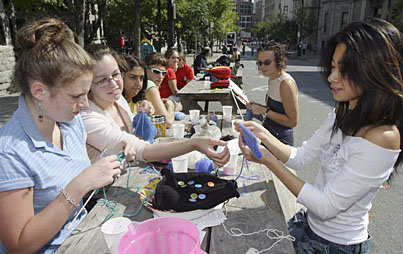 Knit one, purl two. Students engage in a little woolly charity for the Knitting Knetwork on International Car Free Day, September 22. McTavish Street was closed off to traffic, thanks to the efforts of McGill. Danielle DeLuca, first-year Arts (far left), concentrates intently on the square she's making for blankets to give to Dans La Rue, an organization that helps homeless youth. Katherine Nadeau, fourth-year Arts, reaches over to check out the handiwork of Nguyen Thanh-Ly, third-year East Asian studies (far right). Other events scheduled for the day included a rollerblade slalom and sidewalk art competition.
Owen Egan
When tragedy strikes
Mark Reynolds
When a student was found dead in her residence room, McGill's crisis response went into action, providing support resources for students and staff.
Perch discover nature's junk food
Ian Popple
Yellow perch are now eating quagga mussels, a species that invaded Canada's waterways at the same time as the zebra mussel. This adaptation means that toxins that are found in the mussel can now make their way into the food web.
Nations lost, cities gained
Craig Stein
Immigration may have created a more cosmopolitan air to Montreal and Toronto, but this country still needs to adjust to a growing population whose loyalties may be urban and transnational rather than Canadian, according to Art History and Communications professor Jenny Burman.
On the road to stones and beer
Bronwyn Chester
Redpath Museum curator Ingrid Birker takes velocipede-riding Montrealers on a tour through Montreal's past, from the murky mists of pre-history embedded in rock to the founding of a microbrewery.
Air and space law conference takes wing
Jennifer Westlake
An upcoming conference hosted by the Institute of Air and Space Law will address all the thorny legal problems arising from modern air travel — privacy, sovereignty, safety and even the environment.
Let's talk science
Eve Krakow
An eager group brings McGill graduate students into school classrooms to introduce little ones to the world of frog innards, test tubes and robots.
Tasty Bronfman renovations
Mark Reynolds
The Bronfman Building has a slick new look, with an exterior canopy and wood interior. The snazzy lobby also comes with a new bistro, catering to an upscale campus market.
Academic renewal: Brain gain for McGill — McGill has been hiring about 100 professors a year. The huge numbers are crucial — without the frenzied recruitment, an expected retirement bulge on the horizon could claim half of McGill's academic staff. Provost Luc Vinet explains how and why academic renewal is dealing with the issue.
Dean Jobin-Bevans: Fostering music in the masses — Jobin-Bevans would like to teach the world to sing, but would be happy to start with McGill staff. Also: Who the heck is Tadja Hall? The Macdonald Campus faculty club turns 25.
Wearing the red and white at the Olympic Games in Athens
Same-sex marriage on trial, Shakespearean style, Claude Ryan memorial lecture on religion, the Douglas celebrates its twenty-fifth and Nobel Prize winner Claude Cohen-Tannoudji delivers a talk on freezing atoms. Montreal Matters tackles food, and the Quartet for the End of Time comes to the city.