Around campus
Love looks not with the eyes, but with the mind
It was an extraordinary case. The plaintiff cited Rosalind to argue that same-sex couples must be given the right to marry. The defense, in turn, claimed that the law could not be interpreted "as you like it," and invoked The Winter's Tale in rebuttal. Welcome to the world of the Shakespeare Moot Court, where law and literature are fused in a project that fundamentally rethinks traditional conceptions of legal authority.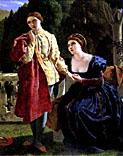 On September 27, Professors Desmond Manderson (law) and Paul Yachnin (English) will be recounting their experiences with the Shakespeare Moot at 6 pm in Redpath Hall. The event will also feature the two professors arguing an appeal of last year's same-sex marriage case, which ended in a split decision.
Manderson explains the genesis of the Shakespeare Moot as "a realization that any complex body of text — religion for instance — can form the basis of a legal system. And Shakespeare's work is especially appropriate because of its importance in how we understand ourselves."
The project, now in its third year, crystallized when Manderson and Yachnin decided to pair students in the faculty of law with graduate students in Shakespeare studies. Previous participants have enthused about their experience, and relished the manner in which the Shakespeare Moot has fused law with the humanities.
Manderson added, "People don't just learn about a legal system, they create one. The difference here, of course, is that Shakespeare's characters possess a complexity that the law does not — the law is entirely more fictional, more mythical, than Shakespeare."
Jeff Roberts
Atoms on ice
Claude Cohen-Tannoudji has the power to make the super-small super-cold. The 1997 Nobel Laureate is Professor of Atomic and Molecular Physics at the Collège de France. Cohen-Tannoudji is renowned for his contributions behind the development of methods to cool trap atoms using laser light.

Jack Ruttan
Cohen-Tannoudji will be delivering the annual Anna I. MacPherson lecture in Physics. His lecture, "Manipulating Atoms with Light" will describe how it is possible to use the basic conservation laws in atom-photon interactions for cooling them to the nanokelvin range (one billionth of a degree above absolute zero, or -273 celsius).
He will follow up the next day with a lecture on "Ultracold Bosonic and Fermiotic Gases." This latter lecture — describing as it does the de Broglie wavelength and quantum degenerative regime — is aimed at a more scientific audience.
"Manipulating atoms with light," October 14, 6 pm, Moyse Hall. "Ultracold Bosonic and Fermiotic Gases." October 15, 3:30 pm, Strathcona Building, Rm M1.
Two talks from the Douglas
Most people who are struggling with a major illness look forward to putting it behind them. Andrew Solomon dove right back in. After having emerged from a bout of deep depression, he conducted exhaustive research on the topic and wrote a worldwide bestseller, The Noonday Demon: An Atlas of Depression.
To celebrate their 25th anniversary, the Douglas Hospital Research Centre has invited the acclaimed New York writer to present a lecture on depression, by looking at it across history, across societies, and across income groups. It will also look at the politics around mental illness in our time.
Science and ethics meet in Douglas Hospital researcher Dr. Remi Quirion's lecture "A neuroscientist's story." Starting with a look at the science of studying Alzheimer's, Quirion will look at the ethics of treatment, as new drugs are developed that help stop the deterioration and loss of mental capacity that comes with this disease.
"Now that we've started to associate genes with this disease and are developing drugs to improve memory, we should be concerned with the ethics of this, and how these should be made available," he said.
Andrew Solomon "The Noonday Demon: An Atlas of Depression" Thursday, September 30, 7 pm, Mount Royal Centre Auditorium, 2200 Mansfield Street. Autograph signing session on Friday, October 1, at 7 pm at Indigo, 1500 McGill College Avenue.
Remi Quirion A neuroscientist's story: From key phenotypes of the Alzheimer's brain to neuroethics, Wednesday, September 29, 4:30 pm. 3647 Peel Street, Don Bates Seminar Room 101. Contact Adele Tarantino 398-6034.
On Friday October 1 and Saturday October 2, 2004, 8 pm to 4 pm there will be a scientific conference divided into four themes: aging and Alzheimer Disease; mood, anxiety and impulsivity-related disorders; schizophrenia and neurodevelopmental disorders; and services, policy and population health. Douglas Hall, William E. Stavert Amphitheatre.
Montreal on munchies
October's a month of harvest and plenty, so it's particularly apt that the CBC-initiated theme this year for Montreal Matters is food. Media and universities across town are throwing in their toques on the topic, so keep an eye out for lectures, events, tastings and tips by checking www.cbc.ca/montrealmatters.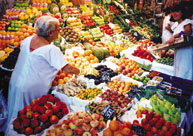 UNEP/Orjan Furubjelke
To mark World Food Day, the United Nations' Convention on Biodiversity will team up with McGill for a panel on Biodiversity, Food Security and the Nutrition Transition: Double Burden or Double Opportunity?
Resources are strained as the world's population swells, and yet developing countries suffer a paradox of nutrition: richer, urban populations suffer from eating too well and too much, leading to obesity and diabetes; while poorer rural populations are chronically undernourished.
Secretariat director Hamdallah Zedan and McGill professors Timothy Johns and Don Smith will discuss how sustainable development initiatives can ease this double crisis.
Wednesday, October 13, 2 pm to 4 pm, Faculty Club Ballroom, 3450 McTavish, followed by reception.
Religion and remembering Ryan
Two years ago the McGill was host to the Pluralism, Religion and Public Policy Conference. The October 2002 event was co-sponsored by the Faculty of Religious Studies and the Centre for Cultural Renewal (Ottawa), with participation by the Faculty of Law and the Faculty of Medicine.
On October 8, McGill-Queen's University Press will be publishing Recognizing Religion in a Secular Society: Essays in Pluralism, Religion and Public Policy. Containing essays from H.R.H. Prince El Hassan bin Talal of Jordan, to the then Chief Justice of Canada Beverley McLachlin, the book probes the relationship between law, politics and religion.
The event will also serve as a launch for the first Claude Ryan Lecture in Catholic Social Thought, which will be given by Professor Russell Hittinger of the University of Tulsa, under the title: "Secularity and the Anthropological Problem." The former premier of Quebec was long associated with McGill's Newman Centre, and the book is dedicated to him.
Friday, October 8, 2004 5 pm to 7:30 pm, Birks Building. Free. RSVP newmancentre@mail.mcgill.ca.
Concert from the Stalag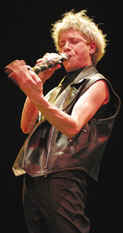 Olivier Messiaen thought he would die in prison. The French organist and composer was a prisoner of war in Germany where he composed Quatuor pour la fin du temps (Quartet for the End of Time) with a passion and poignancy. The piece starts with birdsong (the first time he used this motif) and finishes with an aural rendition of the end of the world as prophesied in the Book of Revelations. The unlikely combination of piano, violin, cello and clarinet reflects that those were the only available instruments in the Stalag. Of the first performance, which took place in the prison, Messiaen later wrote "The cold was excruciating, the Stalag was buried under snow. The four performers played on broken-down instruments. But never have I had an audience who listened with such rapt attention and comprehension."
Brigitte Poulin, piano, plays with clarinetist Lori Freedman, who is hailed for her musical daring.
Quatuor pour la fin du temps, Sunday, October 10, 3:30 pm, at the Chapelle historique du Bon-Pasteur, 100 Sherbrooke East. The concert is the final one of "Evolutions 2004: le quatuor", a five-day jazz, contemporary and improvisational music event.