In focus
Dean Jobin-Bevans: Fostering music in the masses
Since Dean Jobin-Bevans first broke into song at the age of eight, the idea of community has been central to his musical aspirations. His first taste of the performer's life came during a Kiwanis music festival in his tiny northern hometown of Flin Flon, Manitoba. He won the competition as he would many others yet to come. Now he's the director of the McGill Conservatory, and staff with a penchant for song are invited to come together under Jobin-Bevans's leadership to form the McGill community choir.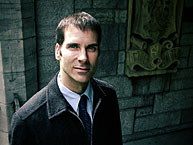 Claudio Calligaris
The idea was conceived of last year during a staff Christmas carolling session, an annual event brought together by Kate Williams, former director of the University Relations Office. It was Williams's final round, so along with classically trained musician and Academic Planning Officer Helen Richard, Dean Jobin-Bevans discussed the possibility of starting up a year-round choir at McGill. "We wanted to offer an opportunity for employees to come together to do something that is a little different than squash or racquetball in the Currie Gym, something that is more artistic and musical," said Jobin-Bevans. The choir will be gearing up for an inaugural springtime performance of Antonio Vivaldi's Gloria.
Jobin-Bevans has been a choral conductor for over 20 years, earning a bachelor's degree in music from the University of Toronto and a master's in choral conducting from McGill; he is currently working toward a PhD in choral conducting at McGill. For someone who has trained hundreds of voices to harmonize, he remains surprisingly optimistic about people's singing potential. "A lot of people feel they can't sing, but I don't believe that," Jobin-Bevans says confidently. "Everyone who has a speaking voice can be taught to sing. Some are better singers..." his voice trails off into laughter. "Whether you want them in a four-person ensemble or a 400-person group is slightly different."
Music continues to be a way of fostering community for Jobin-Bevans, with singing as his preferred form of exchange. In 1998 he formed Voix Libres, a cultural production company that raises money for groups working with people living with HIV/AIDS. Each year the group hosts a benefit concert for World AIDS Day, December 1. The funds from this year's event will go to Maison du Parc, the city's oldest AIDS hospice, which is going into its 10th year of operation. Jobin-Bevans describes the first Voix Libres concert as one of the most touching experiences of his career. "The spirit of the event brought together some of the city's best choral professionals in an environment that was about not only music but also the spirit of transcending the day-to-day rigours of life," he says, "to communicate and to speak to an audience which has experienced loss and is living loss." This year's concert will be a performance of Ralph Vaughan Williams' adaptation of the Walt Whitman poem "Dirge for Two Veterans," which explores the devastation and horrors of war.
Jobin-Bevans has made his community activism a year-round endeavour. Through Catholic Community Services, he also organizes a week-long camp in the summer for men and women living with HIV/AIDS. With his characteristically warm demeanour, Jobin-Bevans is the first to try to coax people into song. "It all ties into me balancing the world of music and reaching out by music to the community," says Jobin-Bevans. "You can't just do music because you think it is beautiful or have lofty artistic aspirations." He was also the interim director of music at the Church of St. Andrew and St. Paul, where he began as a singer in 1994.
At McGill, he hopes to bring some new voices into the fold. Already the choir has attracted almost 30 members, with the potential to grow once rehearsals begin September 29. "I've always liked working with voice because it is so much more immediate," Jobin-Bevans says. "It is for everyone; it is not an elitist activity. Everyone should sing, everyone should belong to a choir."
For more information about the community choir, visit: www.mcgill.ca/communitychoir. Interested choristers should stay tuned for the rehearsal location, September 29, 2004, 5:30 pm to 7:30 pm.
Shannon Devine
You may think that you are engaging in a perfectly normal friendly interaction, and men will read a sexual come-on behind it.
Tadja Hall: 25 years and counting
Once known as Throstle Lodge, and as a haunted house when it was vacant in the years before WW II, Tadja Hall recently celebrated its 25th anniversary as the faculty club of Macdonald Campus. The building was built in the mid-to-late 1800s, and had been owned primarily by the Dowker family since 1884 (as paymaster of the canals of Ste Anne de Bellevue, no doubt George Dowker appreciated the lakefront view). After the war, it changed hands a few times before being sold to the Macdonald Stewart Foundation in 1975. Three years later, Dr. and Mrs. David M. Stewart donated the building to the university, and it was opened as a faculty club late in 1978.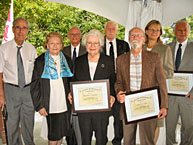 At the anniversary celebrations, a few longstanding supporters were made honorary lifetime members. "I've been a member of the faculty club longer than anyone else, simply because I've lived longer than anyone else," jokes Ralph Estey. At 87, Estey is the oldest practicing plant pathologist in Canada, he says. He analyzes suspect fruit and vegetables that are sent to Montreal — he received a sample just two weeks ago, and sometimes the cases he works on end up in court.
A Bsc and PhD graduate of Macdonald College (as it was then known), he became a full faculty club member in 1957 when he started to teach at McGill. Back then, the club's activities were held in the Principal's home, Glenaladale.
He's clearly fond of Tadja Hall. "It's named after a cat, so we always jokingly called it a cathouse," he said. (Dr. Stewart named the house after his pet, whose portrait hangs in the dining room.)
Estey's wife, Dorean, remembers that, "over the years we've enjoyed the Christmas parties. They're well attended, they always had nice food. One of the highlights was Charlie [Tanner] making his eggnog."
Dr. Charles Tanner says that his special nog can be eaten with a spoon, it's so thick. "The base is rye, perfumed with rum, and it contains whipping cream and coffee cream. It's very rich and has lots of sugar." Current manager and chef Pierre Charette has the recipe.
Tanner has many great memories of his 37 years as faculty — "donkey's years!" — socializing at Tadja Hall. There were barbeques and dancing to records. Because of the waterfront location, "it was pleasant to look out the window, if you had time between eggnog and dancing." Although the character's changed somewhat, becoming a bit of a marriage mill, "the old spirit's still there," he says. His friends' children have held weddings at Tadja, he finds "the cooking's very good," and he has "nice memories of being in the company of nice people." For him, "Tadja means refuge from academia, where you could be with colleagues in a different way. The atmosphere was such that they changed from business-like to human beings as soon as they walked in the door."
Maeve Haldane
Everything I love in the world happens to be really bad for me.
University students just think they don't have enough time [to prepare healthy food. But] if anything, they've got loads of time. They're just playing their own violins.