Face to face with the Principal
Maeve Haldane
Principal Heather Munroe-Blum took the floor for the first Town Hall meeting with staff and students. Questions ranged from libraries to the environment to ethical investment.
Engineering e-learning
Mark Reynolds
Representatives from Quebec's universities descended on McGill to discuss "instructional engineering" and how to incorporate technology in the classroom.
Entre nous with Secretary-General Robin Geller: Wading into the BoG
McGill's Secretary-General discusses Board of Governors reform.
Jennifer Heil, Olympian
Craig Stein
The management student took a year off from international competitive skiing to refocus her game. Now she's better than ever.
New professors
McGill has been hiring new professors by the hundred in recent years. Here are a few new faces: people who are finding out the truth about lying, the relationship between nationalism and theatre, between coffee and socio-political change, and examining the history of contraceptives.
Patrick Blue has seen almost everything as head of security at Macdonald campus. He restores his soul growing organic Christmas trees on his own land. Were it not for bad handwriting, the Bellairs Research Institute in Barbados might have gone to the U of T. Recently, it celebrated its 50th anniversary as a McGill institution.
Text-matching software and ancillary services lead to a debate on the very nature of Senate's oversight.
The Redpath ethnology collection gets a room of its own, staff and students are invited to strap on their blades at two different skating parties, Chaplaincy wants your woollies, the Jewish General wants to help you butt out in the New Year, and the bookstore is offering a special discount for staff.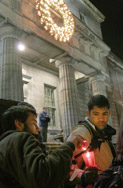 Jack Sanford (left) lights his candle with the help of Munaf von Rudloff. The two International Development Studies students were participating in a candlelight vigil to mark the 17th annual World AIDS day on the steps of the Arts Building.
Owen Egan