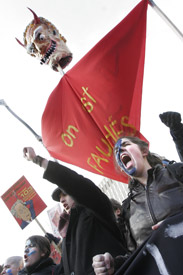 Owen Egan
Vinet crosses the mountain
Bronwyn Chester
Provost Luc Vinet bids farewell to McGill to take up the challenge of the rectorship of the Université de Montréal.
Sex and teens
Patrick McDonagh
Pediatrician Franziska Baltzer will speak on April 6 on everything you wanted to know about adolescent sex but were afraid to ask.
New AVP research
Janusz Kozinski takes the reins.
Town Hall goes west
Joe Zackon
The Principal takes her Town Hall show on the road.
Marketing the Wave
Jennifer Westlake
An innovative new program partners management students and General Motors in a marketing course for credit.
Normand Brathwaite: Branding a Quebec icon
Barbara Sochanski and Joy Bennett
The comedian and media personality visits the management faculty, and is impressed with McGill student pulchritude.
Mediating McGill
Hana Askren
Dentistry professor and university ombudsperson Norman Miller is the first line of appeal for students — or anyone else who needs to take on McGill bureaucracy.
History of McGill
Jeff Roberts
Peter McNally is adding a third volume to Stanley Frost's comprehensive history of McGill. He's looking to tap into the memories of staff and faculty.
Sherwin Tjia, medical illustrator, is a modern-day Renaissance man. The Centre for International Sustainable Development Law takes its new book on tour.
The Principal discusses the Task Force on Student Life and Learning.
Shivangini Arora describes the good life she and 11 other students live as Sauvé scholars.
Redpath curator Barbara Lawson talks about the kings of Egypt, The English department premieres the Gothic tragedy Orra by Joanna Baillie, Professor Gil Troy talks about the Reagan and the '80s, and the Montreal History Project don their zoot suits.