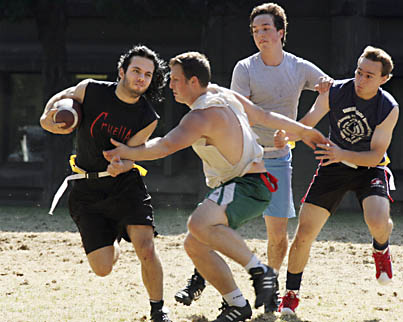 Engineering student teams the Wongbacks and the Easy Riders took advantage of the lingering warm fall weather to kick up some dust in a game of flagball on lower campus. We at the Reporter are sure they were sporting if not civil.
Owen Egan
Planning for the future
Patrick McDonagh
Dean of Engineering John Gruzleski is planning McGill's future, and may determine what the campus looks like in 50 years.
Forces Avenir winners
Balbir Gill
McGill cleaned up at the annual Forces Avenir for their commitment to health and social justice. Four McGill entries were presented with awards at a gala dinner in Sherbrooke.
Principal gives inaugural Killam lecture
Heather Munroe-Blum promises to make McGill a top ten university.
Harry Rosen, dentist and artist
Craig Stein
Harry Rosen made his mark in the world as an expert in prosthodonics. He makes his mark on the earth in a different way — stone sculptures weighing several tons, made by hand.
How beta-blockers came to be
Ian Popple
Sir James Black may have been honoured with a Nobel Prize for his pioneering work in pharmacology, but he gives credit to all those who put in the bench-hours.
A global nutritional crisis
Maeve Haldane
We may have more food than ever before, but the way it is being produced and distributed is creating the framework for a major health crisis in the future.
Behind the scenes with Homecoming team
Mark Reynolds
Homecoming comes but once a year, but the dedicated team of staffers in Martlet House prepares for it all year long.
Sinead Collins: Belle of the bio world: A poet PhD publishes in Nature; 60th anniversary of special convocation: A World War II conference gave an opportunity for McGill to honour two great men.
Funding, fees and food services: Yalovsky discusses the funding shortfall, and what the administration is doing to make McGill run more smoothly for staff and students.
Budget numbers, honorary degrees and enrolment figures.
Libeskind: From the ground zero up; Cross-campus check up; Bourke Memorial Panel; Come to the big top book fair! Viva Italia! Trivia travails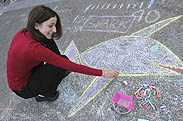 Students from the University's Department of Integrated Studies in Education used coloured sidewalk chalk to draw a timeline chronicling the history of Earth and its living things October 1. The activity was organized by PhD student and instructor Jason Wiles, along with Alex Sheftel, a PhD student in Physiology, as part of a course called Elementary School Science. Wiles hoped that this would give students a better perspective and understanding of the Earth's timeline and natural history. He says, perhaps the most stunning feature of the timeline is the way in which it depicts just how little time human history spans in comparison to the rest of geologic time. Here Luisa Di Criscio, U2 Elementary Education, puts final touches on a prehistoric shark.
Owen Egan