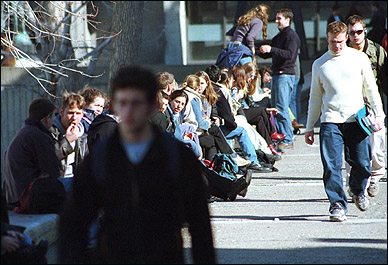 Here comes the sun: Put away the parkas, toss aside the toques and bury the boots -- the warmer weather is here at last. The strip outside McLennan Library overlooking the football field on the lower campus was recently filled with students happy to bask in the glow of an old friend.
Photo: Owen Egan
Barnes & Noble takes over bookstore
BRONWYN CHESTER
McGill has turned the page on Chapters. The problem-plagued bookstore chain, recently taken over by Indigo, earned poor grades for its inability to stock textbooks in time for the beginning of the last semester. Barnes & Noble, an American chain with more experience in running university bookstores, is now in the driver's seat.
Krieble gift advances Trottier Building
BRONWYN CHESTER
The planned Lorne M. Trottier Building for students in disciplines related to information technology received a big boost from a $1 million gift from the family of a former student and professor.
All that pollutes isn't all bad
SYLVAIN COMEAU
Salvador Moncada made medical history by being counter-intuitive and revealing the health benefits of a toxic substance -- nitric oxide.
Marketing self care
MAEVE HALDANE
It's one thing to use marketing techniques to convince people to buy jeans or toothpaste. It's a more complicated task when what you're marketing is aimed at keeping people healthy.
In with the entrepreneurship, out with the crisis management
DANIEL MCCABE
Like most people, Dr. Howard Bergman has some strong opinions about Quebec's medical system. Unlike most people, Bergman, a member of the recent Clair Commission, might actually see many of his ideas transform the province's approach to health care.
Israel, Palestine and the Holocaust
MARK REYNOLDS
A self-hating Jew or a courageous dissenter? Opinions vary widely over author/scholar Norman Finkelstein, the son of Holocaust survivors and a bitter critic of what he calls "hoodlums, hucksters and gangsters that have exploited the Holocaust."
Continuing on in Cont Ed
DANIEL MCCABE
Robin Eley was recently reappointed as the dean of Continuing Education by the Board of Governors. Eley's task will be to help the Centre find its own unique niche.
Young at risk for diabetes
DANIEL MCCABE
According to a recent study, a growing number of youngsters in Quebec are exhibiting signs that they could be prime candidates for developing type 2 diabetes.
Widening the welcome to native students
BRONWYN CHESTER & HÉLÈNA KATZ
McGill's aboriginal students face unique challenges in pursuing higher education. They have their own thoughts on how McGill can help those who follow in their wake.
Also in this issue

Kaleidoscope
Anna-Maria Henderson's ever expanding job description; Why are medical students snubbing family medicine?; Voyage to Mars, via the Web

On campus
Holy and historical; Attention all parkers; Getting started for a career in communications

It takes two to tango: At a recent cultural show hosted by the student group Spanish and Latin American Students (SALSA), a whirling pair gave in to their passion for dance and chased away those final exam anxieties.
Owen Egan