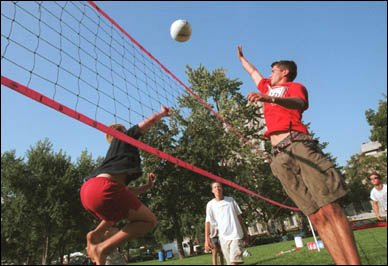 Celebration was in the air these past two weeks, as thousands of new students arriving on campus participated in the many activities organized by the Students' Society of McGill University, the First Year Office and the Office of the Dean of Students.
Photo: Owen Egan
Budget picture brightening
Daniel McCabe
Would you believe no departmental budget cuts this year? McGill starts to spend money to protect its academic standards and presents its case to the government on what it wants to focus on in the future.
CFI grant triumph
Bronwyn Chester
The University wasn't satisfied with its so-so results in past competitions for funding from the Canada Foundation for Innovation, so it rolled up its sleeves and redoubled its efforts. The results -- McGill beat out every other university in the country for top spot this time around.
McCordial relations
Daniel McCabe
History professor Brian Young believes that McGill has never known what to do with the McCord Museum -- which is tragic, in his view, because the place "is a laboratory of the past" and a "research jewel."
As the world watches
Sylvain-Jacques Desjardins
So what does it take to become an Olympian? Determination, grit and a willingness to let your academic pursuits come undone.
Also in this issue

Kaleidoscope
New SSMU president Wojtek Baraniak says it isn't always fun being in charge, A bus service links McGill's downtown and West Island campuses, A student association for those with a few wrinkles

Getting the runaround




Photo: Andrew Dobrowolskyj