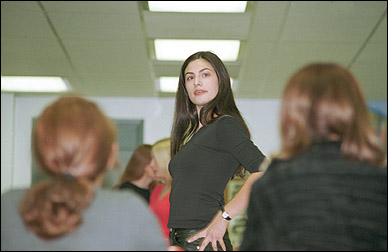 We don't know how this student will do on her mid-terms, but she sure has attitude to burn. She was one of the tryouts for a recent audition for an upcoming fashion show organized by management students. The show itself, which will raise money for AIDS charities, will take place in March.
Photo: Owen Egan
Classroom dynamos
Daniel McCabe
McGill's newest teaching award aims to be its most prestigious. The first three winners certainly can't fail to impress.
Conflict expert honoured
Sylvain-Jacques Desjardins
Political scientist Michael Brecher, one of the world's top authorities on the nature of conflicts, has won the Prix du Québec, the province's most illustrious prize.
Lt-guv with a mission
Sylvain Comeau
Lieutenant-Governor Lise Thibault believes that life is a matter of destiny and will.
Exploding the genome miracle
Mark Reynolds
Is the genetics revolution overrated? Harvard evolutionary geneticist Richard Lewontin sure thinks so.
A chair is born
HÉLÈNA KATZ
A new endowed chair in reproductive medicine will burnish a McGill centre that has been making history in its field.
What constitutes a francophone?
Anna Bratulic
Just how French does Quebec need to be? Political philosopher Charles Taylor and author Jean-François Lisée recently offered their thoughts on the subject.
Making new heart muscles
Sylvain Comeau
A remarkable discovery by Ray Chiu and his team has given hope to the possibility of a revolutionary new method for treating heart ailments.
Matters of life and death
James Martin
A recent book chronicles the lives and deaths of palliative care patients, examining the tensions that can emerge between heathcare professionals and patients and their families.
Senate: The shape of things to come
Senators hear about McGill's building priorities, while some worry about the effect that high salaries for new professors might have on professors who are already here.
Slice of life: Sharing the lectern
Bronwyn Chester
Team teaching is becoming a more popular approach for courses. What are its strengths and pitfalls?
Also in this issue

Kaleidoscope
The pillar of physics, Brenda Milner: comic book hero, Fake IDS for PhDs

On campus
Managers receive good news, Ed Broadbent teaches, Vartan Gregorian on the future of libraries, Maclean's: Number four again