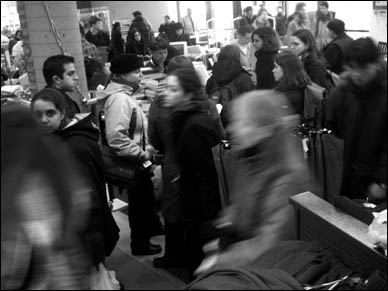 Blur of activity: The McGill Bookstore's cashiers have been giving their digits a workout servicing the legions of returning students shopping for textbooks and other education essentials.
Photo: Claudio Calligaris
Contrat concluded
Daniel McCabe
The "contrat de performance" McGill signed last month with the Ministry of Education includes pledges from McGill to increase the number of Quebec and international students and hire 100 profs within three years. In return for such pledges, the ministry will allot the University $100 million in new funding over the same period.
Greening McGill
Sylvain Comeau
McGill's green policy is out for inspection and it recommends a permanent Senate Committee on the Environment to oversee such changes as using paper-efficient photocopiers and hiring an environmental officer. Senate will vote on the proposal in February or March.
Canada Research Chairs announced
Daniel McCabe
The first seven of the new profs selected as Canada Research Chairs have been announced and include astrophysicist Victoria Kaspi and pain specialist Jeffrey Mogil.
Writing it all down
Bronwyn Chester
For the past 20 years, McGill's Centre for the Study and Teaching of Writing has taught thousands of students how to write at university but its long-serving instructors would like more recognition.
McGill Newsmakers 2000
Daniel McCabe
Once again, we name our top 10 newsmakers. For 2000, number one was cardiologist Ray Chiu for his work on using bone marrow cells to repair damaged heart tissue. In non-research news, the $64-million donation by Richard Tomlinson was tops.
Converging communications
Tod Hoffman
Now the Computing Centre and McGill Telecom are united under the name Network and Communications Services. Director Gary Bernstein says the merger marks the fact that "the network is the thing."
Strangers in a strange land
Daniel McCabe
What's it like to find yourself studying human societies in Kenya when there are bandits terrorizing the village? Or what do you do when the Philippine fishers aren't ready for your plan to conserve seahorses? Some words of advice from those who conduct research in faraway lands.
Also in this issue

Kaleidoscope
Young chemist with all the right ingredients, University presidents display their ethics for all to see, Students say they won't settle for just any job once they graduate

On campus
The a cappella boom, Cigarettes: No gal's pal, Blasts from the past, Saved from the brain drain