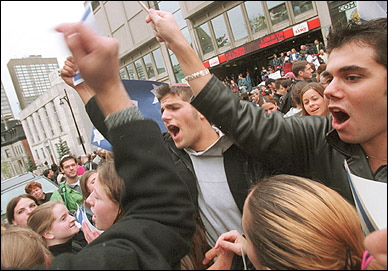 McGill Hillel helped organize a boisterous demonstration on Monday calling for a cessation to the ongoing violence in the Middle East. Police estimate about 1,000 people took part, largely to voice their support for Israel, some waving banners declaring, "We Want Peace" and "Proud to be a Zionist."
Photo: Owen Egan
Building up for hi-tech
Sylvain-Jacques Desjardins
A major donation from Matrox president Lorne Trottier will spark the creation of a new building at McGill that will enable the University to train the hi-tech specialists that companies are clamouring for.
Brand savvy
Leslie Stojsic
McGill's official logo and signature have been banged up, misused and disregarded for years. A new policy calls for a stricter and more consistent use of the University's trademark images.
A funny thing about laughter
James Martin
Physician Jonathan Miller became one of the stars of Britain's fabled comedy troupe Beyond the Fringe. He has been wondering about why people need comedy ever since.
Well-weathered radar gets a boost
Bronwyn Chester
McGill has played a crucial role in the development of weather radar in Canada and continues to provide vital insights on the subject today. Airports and city planners anxiously await the word on the weather from McGill. Thanks to new funding, the forecast is good for McGill's continuing expertise in this area.
If you give an Inuit a snowmobile...
Daniel McCabe
Government-created jobs were supposed to spur economic growth in the North. But the Inuit would rather be hunting. Geography professor George Wenzel says we should do whatever we can to help them do just that.
What's behind text appeal
Daniel McCabe
Textbooks are fundamental to the teaching of many courses, especially at the introductory level. Behind the scenes, publishers sometimes butt heads with their university professor authors over content and worry about the market for second-hand books.
Also in this issue

Kaleidoscope
Why Karen Devon impresses people; McGill researchers take top spot; Starlet Jessica Paré's papa

On campus
National Chemistry Week gets an explosive beginning; Where to shop for Halloween; In William Logan's corner against the prime minister; Architecture students build up their sketching skills.

Watt a guy -- Professor Doug Watt, director of McGill's Aerospace Medical Research Unit, received a surprise at a recent departmental meeting of the Department of Physiology. Canadian astronaut (and McGill graduate) Robert Thirsk turned up to present Watt with NASA's Ad Astra Award, a prize that goes to Canadian scientists who've made important contributions to keeping astronauts healthy and productive while they're in orbit. Watt is one of the world's leading authorities on space sickness -- a form of nausea that affects many astronauts in space. Watt's wife Susan was on hand to pin a citation onto her husband's shirt.
Photo: Owen Egan