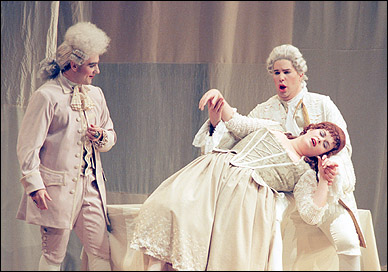 Susanna (Krista Howe) pretends to faint into the arms of Count Almaviva, while Don Basilio (Robin Tremblay) watches. It's all par for the course in Le nozze di Figaro, as performed by Opera McGill. Alas for any fans of the Mozart comedy, Figaro, which runs until this Saturday, is sold out.
Photo: Owen Egan
Chapters under fire
Daniel McCabe
In Senate this week, English professor Kerry McSweeney said Chapters will have to improve its relations with textbook publishers in order to have the books on hand in time for students. Otherwise, the University could end the mega-chain's contract for managing the McGill Bookstore.
IP policy almost done
Daniel McCabe
McGill will soon have its Intellectual Property Policy, even though some contentious issues, involving ownership and inventor control, remain.
Talking the talk: McGill a force in language studies
Mark Reynolds
The new Language Acquisition Program, an interdisciplinary doctoral program unique in North America, builds on McGill's internationally recognized leadership in the field of language development.
New additions
Meet eight of McGill's new professors and find out why Canada's not prolific when it comes to spy novels, how the country's economic regions may fare in the long term under the free trade agreement, and why we may all need pathologists.
Mastering the mysteries within
Sylvain Comeau
The media's favourite scientist for 2000 was Dr. Thomas Hudson, lauded by Maclean's, The Gazette, La Presse and Radio-Canada as a great Canadian and a great scientist. With most of the human genome already mapped, the head of the McGill-based Montreal Genomics Centre has turned his attention to understanding what genes do.
All jazzed up
Sylvain-Jacques Desjardins
McGill's jazz performance program is hard to get into, but students and faculty like it that way. That kind of quality control was a major factor in the McGill Jazz Orchestra being chosen as one of only five North American university jazz bands to play in New York recently at the International Association of Jazz Educators conference.
Slice of life: It's never too late for learning
Sylvain-Jacques Desjardins
Enrolling in university after retirement or in order to change job streams after years in the workforce requires adapting to being older than other students, having less money than while working, or juggling job, family and studies. But these mature students say it's worth it.
Also in this issue

Kaleidoscope
Norman Hoffman: An ear for students, Doctoral diagnoses, The importance of being Ernest

At issue
Attracting francophone students

On campus
Model UN, Redpath en français, Salty cineast, Sites to behold, Kudos

McGill's Ryan Beaton zooms along on his way to contributing to the University's recent win in the 4 x 800 men's relay race at McGill's Sixth Annual Invitational Track and Field Meet. McGill women took top spot overall, while the men placed fourth at the meet.
Andrew Dobrowolskyj