PROFILE
Jenna Senecal: Daring to care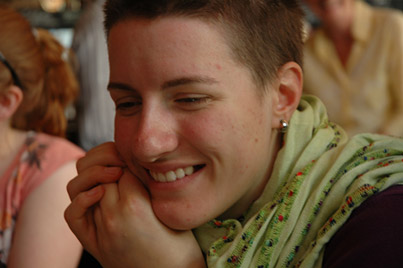 Most of the $6,500 needed to send Jenna Senecal to Malawi was raised by the McGill chapter of Engineers without Borders. Senecal and two fellow EWB members even shaved their head to raise funds.
BY NEALE MCDEVITT | When Jenna Senecal was contacted by phone last week, you could hear the excitement in her voice. And why not? The Bioresource undergrad was just hours away from boarding a plane at Pearson International Airport that would take her to Malawi, a tiny sliver of a country in southeastern Africa.
On her first trip outside North America, Senecal will work with Work for Rule House, a Malawian NGO, for the entire summer. On the cusp of this adventure, however, Senecal had only one thing on her mind. "Toilets. I'm obsessed by toilets," she said, laughing. "They are what drive me. They are my passion."
No, this NDGer is not another North American fretting over the inconveniences of Developing World plumbing. She is, in fact, the co-president of the McGill Chapter of Engineers Without Borders (EWB), who sees the installation of basic toilet systems as essential to a developing county's overall health. In Malawi, it is one of the keys to survival.
It is estimated the life expectancy of the average Malawian is about 38 years. Like many African nations, Malawi has been hit hard by AIDS – with a more than 14-per-cent infection rate.
Water, too, is a major health issue, which is ironic because Malawi is home to Lake Malawi, the ninth-largest lake in the world. "All that water and more than 50 per cent of the population doesn't have access to clean running water or proper sanitation," Senecal said. As in many developing countries, water-borne disease is a major threat to the population's overall health – especially the very young.
Outsider looking in
While the details of her role are to be worked out once she is there, Senecal said her primary focus will be to help the NGO monitor and evaluate the country's water and sanitation systems. "Sometimes it helps to bring in an outside perspective to help the organization be more effective."
Although technology can be a hurdle in some instances (the computerization of the NGO's database was only started last year, for example), toilets aren't rocket science. "In Malawi, they work mostly with latrines and boreholes," said Senecal. "They have the knowledge and the technology, but the biggest obstacle seems to be finding the resources to implement change."
One simple but effective technology Senecal is interested in is a composting toilet made with a hole in the ground, a concrete slab and a simple structure built around it. When the toilet has reached capacity, it is covered and another hole is bored three metres away for the new toilet.
"If you mix in other organic materials, cover it up and let it sit there, it will become the richest fertilizer in the world and you can grow trees right on the old latrine," Senecal said. "People in barren areas of the world are starting to use this method to create their own mango grove and help increase their income."
"This is just another reason why I hate Canadian toilet systems," Senecal said. "We clean our water, transport it to our homes and use it to flush our matter down the toilet. One-sixth of the world's population lacks access to improved water and sanitation and we're dirtying potable water like that. It doesn't make any sense."
Roots of activism laid in nature
When asked how she became so impassioned by toilets and the environmental issues surrounding them, Senecal spoke about her family's "little shack up north" where they spent their summers. The rudimentary cottage had no electricty, running water or telephone. "Ever since I was a little kid, I never felt I belonged in the city. It wasn't normal for me to be surrounded by brick walls and paved streets. I always wanted to be in the woods listening to the silence of nature."
As she grew older and became more aware of international development and the fight for survival faced by millions of people each day, Senecal's affinity for nature turned to concern for her fellow humans. "I can choose to go to school or not and either way I'll be fine," Senecal said. "But a poor rural farmer doesn't have those options. One drought and they can lose all they have. How can we even begin to understand what it would be like to be unable to feed your family?"
Senecal spoke frequently about "finding her Dorothy," a term often used by Engineers Without Borders members. Dorothy is the human face of hardship and healing; a real person met during one's fieldwork who brings to the fore the absolute necessity of the work being done. Dorothy's very survival can hinge upon anything from crop blight to armed insurgence. The key, according to Senecal, is understanding that Dorothy is not just another number on the tote board of a developing nation.
"Sometimes I get down when I read about the state of the world," she said. "But then I think how the one small change I make could have a huge impact on a person's life. It is our responsibility to try. We have to be aware, we have to care and we have to dare."