A family affair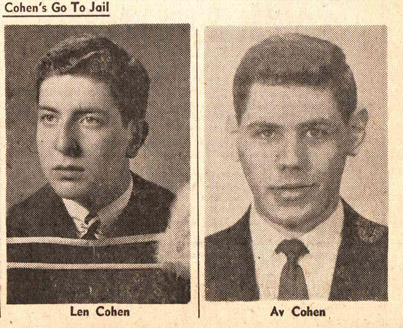 Robin Cohen's father Avrum was once the debating partner of an unrelated Leonard Cohen.
The Cohens of McGill
BY JIM HYNES | Dr. Robin Cohen's ties to McGill go back, waaaaaaay back. Her family's McGill links can be traced to the 1920s and her grandfather, Hyman Cohen, who, though he didn't earn a degree, took an economics course taught by none other than Stephen Leacock.
Since that time, one Cohen offspring after another has walked through the Roddick Gates in search of higher education and a degree, or three.
Avrum Cohen followed his father Hyman's first steps on campus, earning a BA in 1953 and a law degree in 1956. Back in the days when the position came with a room adjacent to its offices in what is now the Redpath Museum, the future lawyer served as President of the McGill Students' Society. He was also part of McGill's Debating Union Society, teaming up in 1956 with an unrelated Leonard Cohen (yes, that Leonard Cohen) for a debating contest tour that included a loss to a team of inmates from the penitentiary where one debate was held. Avrum Cohen later married Robin's mother, Barbara, who earned a Diploma in Teaching – at McGill, of course.
Robin Cohen herself, today the Research Director of the Division of Palliative Care at McGill's Departments of Oncology and Medicine, followed her dad to McGill in the late 1970s, graduating with a BSc in 1981, a Master's in 1983 and a PhD in Psychology in 1986. Her twin boys were born just before she completed her doctorate.
Now the next generation of Cohen offspring to attend McGill is getting ready for the coming convocation ceremonies. Dr. Cohen's sons and stepson will each be earning a degree this year. Twenty-two-year-old twins Jordan and Ari Steiner, whose father is Dr. Warren Steiner, Psychiatrist-in-Chief at the MUHC, will graduate with a BComm and BA, respectively, while Dr. Cohen's stepson, 27-year-old Joshua Schwartz, will graduate with a PhD in Electrical Engineering. Joshua recently received news that he will be awarded McGill's Governor General's Gold Medal for Natural Sciences – news that has made a proud McGill mom beam with greater pride.
"As we say in Yiddish, the whole family is 'shepping naches' (getting pleasure plus pride) from our kids…as always!" Dr. Cohen said.