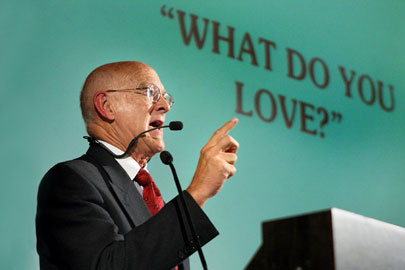 The (mini) business of love: David Lank, Director of McGill's Dobson Centre for Entrepreneurial Studies, kicks off the 2007 Mini-Biz public lecture series with typical flair. Mini-Biz is just one of the events marking the 100th anniversary of management education at McGill.
Owen Egan
New and renewed, McGill gets 12 CRCs
By Mark Shainblum
McGill nets eight new CRCs and has four renewals — to the tune of $10,500,000.
Patients to tell their stories at IVF Congress
By Mark Shainblum
McGill helps organize the 14th World Congress on In Vitro Fertilization and Third World Congress on In Vitro Maturation, during which former and current patients will address congress goers.
Notes From the Field: Taking a people's pulse from the sea
By Angela Pacey
Angela Pacey, a Master's student in the School of Dietetics and Human Nutrition and the Centre for Indigenous Peoples' Nutrition and Environment, gives a first person account of her time conducting a health survey of the people of Sanikiluaq, Nunavut.
Headliners: From Arctic melting to Britney's meltdown
By Neale McDevitt
This issue's headliners installment has everything from unfriendly docs to squadrons of marauding wasps.
P.O.V.: Six years after 9/11: Academia's failure
By Gil Troy
History prof Gil Troy paints a sobering picture of a post-9/11 world that has changed precious little in the wake of tragedy.
Profile - Virginie Millien: Nature's archivist
By Neale McDevitt
From growing up in a Paris suburb to one day finding herself collecting rodents in Schefferville, Virginie Millien's never-ending journey has just begun.
McGill Web Gems: McGill web primer
By Mark Shainblum
The ABCs of McGill's essential web resources.
McGill Matters
Fire procedures, safety training and online course evaluations.
Entre Nous with Drew Love, Director of Athletics: Healthy student body, healthy student mind
By Neale McDevitt
Having turned Carleton University's sports program into a winner, Drew Love brings his Midas touch to McGill.
Research and Discovery: Better maps, better science
By Daniel Spitzberg
What the heck is an ecoregion map anyway and what does it have to do with preventing the spread of avian flu? Ask Raja Sengupta.
Maps that aid marine conservation
By Daniel Spitzberg
Redpath Museum research assistant Sara Lourie is on a mission to save the seahorse.
McGill's own School of Rock
By Michael Bourguignon
Garage Band Camp? Did the Clash start this way?
The renaissance man of true crime
By Neale McDevitt
We're almost convinced that beneath his red McGill tie, Chancellor Richard Pound has a big "S" emblazoned across his chest.
Redpath Library entrance under repair
The main entrance of the Redpath Library Building will be closed through Oct. 3 as it goes through important renovations.
Home sweet solar home
By Neale McDevitt
McGill undergrad architecture and engineering students help make up Team Montreal, an inter-university team ready to take on the big boys of the solar house world at the upcoming Solar Decathlon in Washington, DC.
Seeing the forest for the trees
By Michael Bourguignon
Nearly a decade after natural disaster, Gault Nature Reserve is a study in rejuvenation.
In memoriam — Ralph Harris: Devoted friend and mentor
By Pascal Zamprelli
Friends, family and colleagues mourn the passing of the much-loved Ralph Harris.
In memoriam — Jim Wright: McGill's unpretentious ambassador
By Victoria Lees
Victoria Lees, former secretary-general of McGill, gives her personal recollections of a pillar of the community, Jim Wright.
Around campus
Make your own mummy workshops, the First Peoples' House Pow Wow and a bike tour that includes fossils AND beer? Where do I sign up?