On campus
Powwow on campus!
Frosh is over, but the singing and dancing on the soccer field will begin anew on September 16 when the Third Annual First People's House powwow returns to campus. Both a celebration and a welcome to campus, this year's pow wow will be the biggest yet. There will be information kiosks, dancing of all kinds, three different drum groups and Inuit throat singers.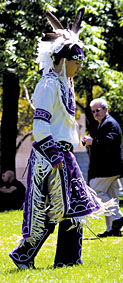 "This powwow should be bigger and better because we are collaborating with the Montreal Friendship Centre as well as the Aboriginal Student Networkas well as Offfice of the First Nations and Inuit Education," said First People's House staffer Lynn Fletcher.
"There will be demonstrations of dancing and showing people how to dance. There's women's dance, boys' and men's dance, jingle dancing and fancy dancing," said Fletcher.
The powwow is open to the public, 10 am to 6 pm, on September 16. The First People's House is also hosting a welcome breakfast for new and returning Aboriginal students on September 21, from 9 am to 1 pm, in the First People's House, 3505 Peel Street. For more information call 398-3217, or see www.mcgill.ca/fph.
The bounty of beta blockers
Pharmaceuticals are in the news a lot these days: affordable AIDS drugs for Africa, how these drugs affect health care budgets in Canada and cross-border drug companies selling in the U.S. are just some of the stories making headlines.
The man behind some of the biggest medicinal drug advances in recent history, Sir James Black, will be delivering two talks at McGill. Sir James shared the Nobel Prize for Medicine in 1988 for his contributions to pharmacology, most notably his development of beta adrenergic receptor antagonists (beta blockers), a commonly prescribed medication for hypertension and heart disease.
"What makes Sir James such a notable scientist is that he pioneered many of the approaches that we now consider to be the basis of classical pharmacology," said pharmacology and therapeutics professor Derek Bowie.
Bowie explained that Sir James realized one drug could have distinct effects on different organs by acting through specific target proteins. Sir James' innovation was to take this idea and develop drugs that were tailor-made for specific targets and therefore disease states. "We take this for granted now but they were a big breakthrough at the time," said Bowie.
Sir James' accomplishment, Bowie said, "made a lot of money for a lot of people," but was more than just a cash cow. Black is well known for his multidisciplinary approach that balanced the needs of industry and academics.
Sir James will deliver a lecture on the past, present and future of beta blockers. His lecture will include a personal account of his involvement in their discovery and will explain some of the still unresolved questions about the mechanisms underlying their effectiveness.
Sir James Black: The Greatest Benefit to Mankind; Thursday, September 23, 2004, 6 pm, auditorium S 1/3, Stewart Biology Building. For information, contact Derek Bowie, 398-1581 or derek.bowie@mcgill.ca. Sir James will also deliver the Department of Pharmacology and Therapeutics Mark Nickerson Memorial Lecture on September 24 in the Meakins Auditorium on the fifth floor of the McIntyre Building.
Plucky exchange between U of T and McGill musicians
The Winners of the Felix Galimir Chamber Music Competition at the University of Toronto will be performing Sunday, September 19, at Redpath Hall. The chamber music group is visiting McGill as part of an annual exchange of musical prowess between the two usiversities. McGill will be sending the Lloyd-Carr Harris String Quartet, made up of winners of the Lloyd-Carr Harris Foundation scholarship, which supports string studies at McGill. This year's members are Emmanuel Vokovich, violin; Aya Ito, violin; Frédéric Lambert, viola; and Hannah Addario-Berry, cello. They will be performing in Toronto in February. The Toronto ensemble will perform a program that includes Hadyn, Brahams and Kelly-Marie Murphy.
Free admission. Contact 398-5145.
Going somewhere?
Architecture and nomadism don't seem to be natural bedfellows. One after all is about creating permanent structures, while the other eschews them. Despite this apparent contradiction, the History and Theory graduate studio of the Architecture school tackled the idea of urban wanderers for their project in 2004, and the results are on display in the Macdonald-Harrington exhibition room now.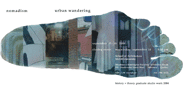 As is always the case with the architecture school, the results are eclectic, to say the least. Entering the room visitors are confronted with a series of footprints on the floor, made of different materials. Next to them is a narrative of a day's journey, stretching along the floor.
Off to the right is a multi-purpose chair/stool/table thingy, and behind it on the wall is a re-imagining of the Parc-Pine interchange as a monastery complex.
The display is open to the public until September 16. There will be a closing vernissage of the exhibit and a book launch of Chora 4: Intervals in the philosophy of architecture on Wednesday, September 15, at 5:30 pm.
Nomadism / Urban Wandering, Monday to Friday, 9 am to 5 pm. Macdonald-Harrington Building, Rm 114. For more information: www.mcgill.ca/architecture/exhibitions/. Or call 398-6716