Off campus
Santropol Roulant bazaar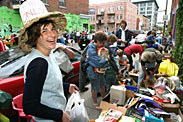 Santropol Roulant is hosting their 8th Annual Street Fair-Bazaar on Saturday, September 11, from 10 am to 5 pm on Duluth Street, corner St-Urbain, to raise funds for their meals-on-wheels program. There will be music and dance performances, Ben&Jerry ice cream, great buys — especially for back-to-school needs — and much more. "It's our biggest fundraiser of the year," says Paola Baraya, event coordinator. "There are a lot of activities and it's fun for the whole family." The entertainment starts from noon onwards and you can see face painters, stilt walkers among other fair-minded folk. In case of rain, the event will be held on Sunday, Sept 12th. Come join the fun and support your community!
Call Santropol Roulant at 284-9335 for more information.
Goodtime cooks

A grad of McGill and Le Cordon Bleu, Amy Rosen emulsified together a book by the name of Cook This: Recipes for the goodtime girl. Beneath the soufflé exterior lies crunchy common sense. From sweet potato gnocchi to white-trash beefburgers with toppings haute or low (arugula vs. slaw, aioli vs. peanut butter), Rosen is playful and demystifies the culinary process. She makes it all feel utterly possible for a cook on the go who wants to be able to whip up some grub for a group or a treat for one (sometimes all that's between you and a rollicking dessert success is a simple can of condensed milk). The book is marketed for the gal who likes a dose of irreverent pink and sassy talk, which, alas, will probably deter guys from picking it up. If they're smart, maybe they will anyway, and use the great recipes to cook for and wow the girls in their life.
Books 'R Us
Psst! Anyone got a book for sale? BooksForSchool.ca was launched last month with the goal of allowing College and University students to buy, sell or trade used textbooks with other students all across Canada.
Co-founders Michael Levine and Lawson Hennick came up with the idea for site after being gobsmacked by the spiraling cost of education and the desire to ease the way for students wanting to rid themselves of the former trappings of coursework or glean the required reads for cheaper than new. Using the advanced search engine students can find the book(s) they are looking for within seconds. Personalized bookstores allow members to give out a web address where all their books are listed. Students can visit www.booksforschool.ca and begin listing their textbooks after registering as a member or browse for buying.