McGill welcomes new acting vice-principal (research)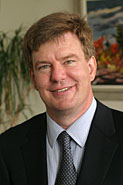 Louise Proulx, vice-principal (research), will be leaving McGill in order to pursue new challenges and opportunities, effective September 30, 2004. Proulx has been a dedicated leader of the research portfolio since she joined the university in April 2002. During her time here, research relations have been enhanced with affiliated hospitals, sister institutions and a range of Quebec research programs. She has also fostered improved support to faculty and research programs within McGill. Before joining the university, Proulx held a series of senior positions at different pharmaceutical firms and research organizations.
Jacques Hurtubise, who was appointed as associate vice-principal (research) on August 1, will serve as acting vice-principal (research) until a new vice-principal is appointed. Hurtubise (BSc, Université de Montréal; PhD, Oxford University) is a professor in the Department of Mathematics and Statistics. He came to McGill in 1988 as an associate professor and was promoted to full professor in 1994. He has served on numerous academic, selection and administrative committees at McGill and externally, at the local, provincial, national and international levels.
From 1999 to 2003, he was director of the Centre de recherches mathématiques at the Université de Montréal. He also served as president of the Réseau de calcul et de modélisation mathématique at the Université de Montréal during the same period. He has just been elected to the Royal Society of Canada, Academy of Science. As acting vice-principal (research), Hurtubise will oversee research services (including research grants, technology transfer and international research) and research policy at McGill. The vice-principal serves as McGill's main representative to organizations that manage university research administration and development and promotes McGill's research partnerships with industry, other research organizations and government departments and agencies.